Widex Announces "TV PLAY"
The Widex TV Play can be a treasured asset for hearing aid wearers. A 2017 Nielsen survey found, that in the age group of 65 plus, Americans watch almost seven hours of television daily.  For many, it can be a real struggle to comfortably understand television dialog.

Some studies suggest that up to 78% of hearing aid wearers have trouble understanding speech on the television.
The Widex TV PLAY allows hearing aid users to enjoy TV sounds effortlessly through direct streaming to their Widex Evoke hearing aids. TV PLAY provides for fast and easy setup, easy to control, and delivers clear clean sound.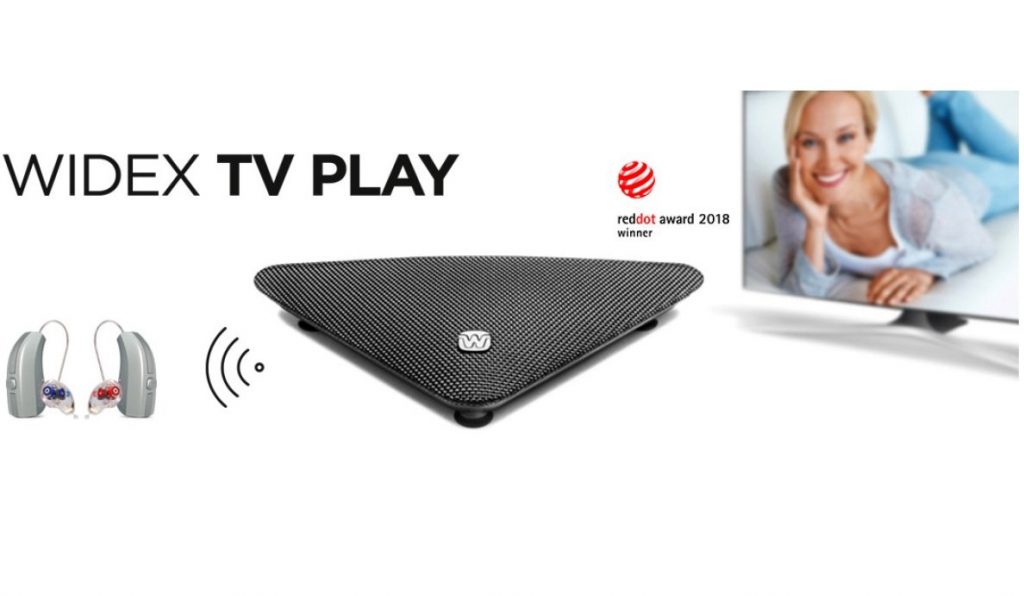 OUTSTANDING PERFORMANCE
Whether you want to watch your favorite sports team or relax with your favorite series, TV PLAY helps you get outstanding TV sound streamed directly into your ears.
The patent-pending dual antenna technology ensures great streaming stability, so you will never miss out on important TV moments.
EASY TO SET UP and STAY CONNECTED.
The Widex TV Play is easy to set up, has excellent streaming stability and offers a modern discreet design.
The simple set-up process and accessible user interface allow you to enjoy TV moments from the start.
1. Connect TV PLAY to the TV
2. Pair TV PLAY with Widex EVOKE™ hearing aids
3. Place TV PLAY discreetly in front of or behind the TV
CONTROL WHAT YOU HEAR WITH YOUR SMARTPHONE
With the Widex EVOKE app downloaded to your smartphone, you can adjust the volume of your hearing aids and the volume of your TV independently.
You can achieve that just-right balance between your surrounding environment, conversations and TV sounds. This balance of competing sounds and conversations enhances a comfortable and less stressful social environment.
To order a Widex TV PLAY please visit HearSource.com anytime or call us at 1-800-416-2434, Monday thru Friday, 9:00 a.m. to 9:00 p.m. Eastern Time, USA.