When connecting Widex Evoke hearing aids to an iPhone there are two basic steps.
First, download the app from the app store, and Second, pair your Widex Evoke hearing aids to your iPhone.
This article will guide you through the two-step process.
Widex Evoke Hearing Aids to iPhone - Downloading The App
The EVOKE app lets you control your hearing devices directly from your iPhone or Android smartphone, allowing you to adjust volume settings, listening programs, find your hearing aids and access the world's first real-time machine learning hearing solution. With direct streaming from your iPhone® to your EVOKE hearing aids, you're quickly and easily connected to phone calls, music and more — all in clear and pure sound.
Compatible systems requirement
Apple: iOS 11.x, 12.x, 13.2 (11.4.0 is not supported)
Apple Watch:

 watchOS 4.3.2, 5.3 and 6.1

iPad OS:

 13.2
How to download the Widex EVOKE app from the App Store:
1. From your compatible iPhone*, open the App Store icon.
2. In the Search field, enter Widex EVOKE and tap the app.
3. Tap Get to download the app for free.
4.Tap Install.
5. Enter your Apple ID password or use Touch ID when prompted to complete the installation.
Pairing Widex Evoke Hearing Aids To iPhone
Widex to iPhone Pairing
Pairing the Beyond app to your iPhone is done in the iPhone's Settings menu. Once you are in Settings, select General, and then Accessibility. Then, once your hearing aids are turned on, the iPhone will find them and you will see Hearing Aids on the menu as an option to select. It will automatically populate your name. Next, select Pair.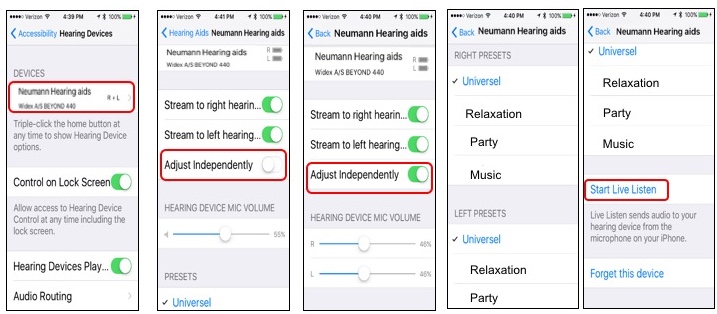 Troubleshooting Tip – Pairing
If you are having issues pairing your Widex Evoke hearing aids to your iPhone and your hearing aids aren't connecting, or they're connecting but not streaming, follow these troubleshooting steps:
Remove the pairing from the hearing aids
Remove the pairing from the iPhone
Restart the iPhone
Many times, when experiencing streaming or connectivity problems, it is not the hearing aids that are at fault. It may be just that the iPhone needs to be restarted. After restarting your iPhone, make sure to go back and re-pair the hearing aids to the iPhone. Most iPhone to hearing aid pairing problems can be resolved by using this three-step process.
DESIGNED TO GIVE YOU THE CONVENIENCE
The EVOKE app is designed to give you the convenience of remotely controlling your hearing aids through an Android or Apple device you readily have at hand. The EVOKE app covers key functions like changing programs and includes SoundSense Learn, which guides you to personalized hearing.
THE EVOKE APP
A TRULY SMART HEARING AID APP GIVES YOU CONTROL
When you use 
WIDEX EVOKE
, you have the option to tap into a hearing aid app that effortlessly gives you full control in the moment – regardless of the listening environment. It's never been more convenient to fine-tune your hearing aid.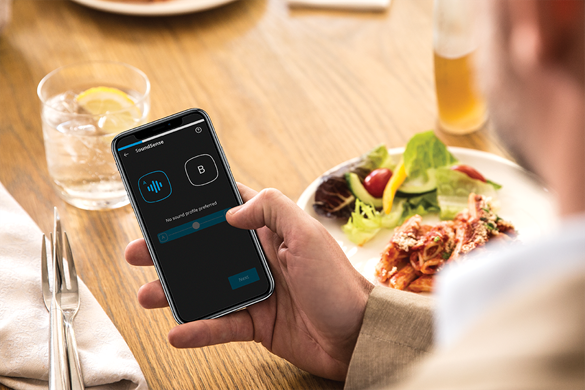 IT'S A WHOLE
NEW WAY TO HEAR
Using the SoundSense Learn feature, you can easily make your own favorite hearing programs for specific sound environments.

Just listen to the two sound profiles the EVOKE app gives you, and choose which sounds best: A or B. The more times you do it, the more you will personalize your preferred sound experience. 
Volume/Preference Control
At Widex, they like to use the term "preference control" as opposed to "volume control." Volume control connotes turning everything up or everything down. With preference control, if you go toward a louder setting, we assume that you want to hear speech sounds better. This control changes multiple settings at once. It either increases or decreases multiple features to give you more audibility or more comfort.
Within the preference control panel, there are four different setting categories: default, binaural, right/left independent and mute. In the binaural settings, you can adjust your hearing aids independently. When the sound level is adjusted, a number will appear on the screen indicating the volume offset level to which the hearing aids were changed. If you have your volume control for both hearing aids acting together, you will see one number. If you want to adjust the right and left levels differently, you can do this within the R/L Independent settings category. In that case, you will see two different numbers on the screen indicating the different levels for the right and left hearing aid. Once you go back to the main screen and use the slider bar, it's changing them together, but it's keeping the preset for your left and your right hearing needs. There is also a mute function so you can mute the hearing aids.they
For more information on Widex Evoke hearing aids or pairing your Widex Evoke hearing aids to your iPhone, please call 1-800-416-2434 Monday thru Friday, 9:00 a.m. to 9:00 p.m. Eastern Time (6:00 a.m. to 6:00 p.m. Pacific time) USA.