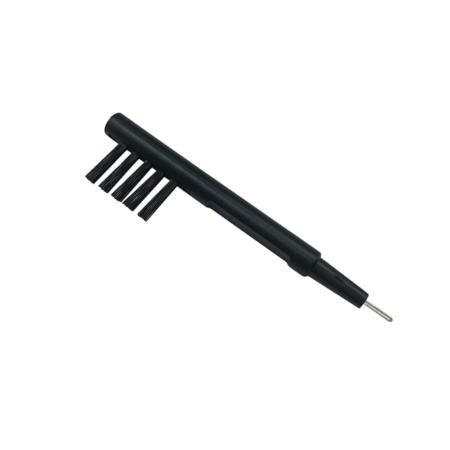 Hearing Aid Brush with Wire Loop and Magnet
$2.95 each
Description
Hearing Aid Brush – Multi-functional Hearing Aid Cleaning Tool (3-Way)
This is an essential and very useful hearing aid cleaning tool for ALL hearing aid users. Use for daily hearing aid maintenance.
Color: Black ; Material: Plastic ; Vent Cleaning Tool Kit:50mm ; Brush Size: length (50mm/1.9″)
Hearing Aid Accessories and Vent Cleaning Tool Kit & Multi-function Hearing Aid Brush Set.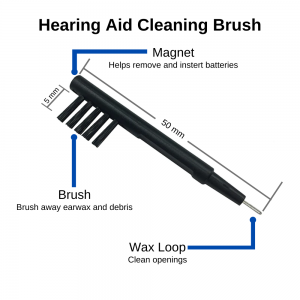 Hearing Aid Brush Cleaning Tool. Brush away any wax or skin debris from the surface of hearing aids.
Hearing Aid Vent Cleaning Tool. The vent hole can easily become plugged with earwax, so you can use the vent hole cleaner to pick out any debris that has collected.
Hearing Aid Wire Loop Tool. Use the earwax wire loop to gently remove wax build up from ALL hearing aids.
Magnet on brush end makes removing and inserting hearing aid batteries easier.
This hearing aid cleaning tool works great at keeping your hearing aid(s) clean which prolongs the life of them.
A soft bristled brush is essential for hearing aid. It helps remove dirt, dust, dandruff, and any other particulates that naturally find their way to settle around the hearing aid surface. Most if not all hearing aid accessories/cleaning kit will have a cleaning brush or two.
You can also use the bristles of the brush to get inside the holes of hearing aids – just be sure to wipe away from the hearing aid, moving particulates out, not in.
You an also use the wire loop on as a wax pick
Keep Your Hearing Aids Clean Now – Save On Repair Costs Later
Providing your hearing aids are a little extra care will make a huge difference in their overall life span. Hearing aids aren't an inexpensive purchase and must be treated with care.
When handling or cleaning a hearing aid make sure you hold it over a soft surface to avoid damaging the device if you drop it. Our recommendation is to lay down a towel on your kitchen table when cleaning your hearing aids. That way, if they fall they land on the towel instead of bouncing around and risking further damage.
Generally, you want to wipe down your hearing aids and earpieces with a soft tissue or cloth at the end of the day when you head to bed. Cleaning your hearing aids is a good habit to get into, especially since many models are rechargeable – and the recharge happens overnight.
These are our suggestions for the most important hearing aid cleaning tools. You can find all of these products online, at some stores or by visiting your local Audiologist's office.
Cleaning Your Hearing Aids
Cleaning tips for RIC (receiver in-the-ear) hearing aids
Wipe down your hearing aids and earmold or dome with a cloth, tissue, or designated hearing aid wipes or disinfecting spray.
Locate the microphone of your hearing aids. Keep in mind that some hearing aids have two microphone ports.
Use a brush over the microphone ports to remove any loose wax or debris.
Use a wax pick to clear out the holes at the tip of the earmold or dome. Do not stick anything longer into the speaker port, as it can damage the components. Replace the wax filter if needed.
If you have an earmold on the hearing aid, locate the vent of the earmold, and use a vent cleaner to clear out the vent. This is an opening that allows air to go from one side of the hearing aid to the other.
Whether you're still getting the hang of owning hearing aids, or just want to brush up on your cleaning routine, there's no harm in making sure that you're taking care of your hearing aids properly.
Cleaning hearing aids can seem daunting at first, since many people feel anxious messing with devices that they care about. However, knowing how to clean your hearing aids is something that will feel natural after enough maintenance sessions. If you're looking for some guidance on how to store and clean your hearing aids, this article will walk you through what you need to know.
Care Tips For Hearing Aids
Like with every electronic device, there are some general care tips you should know. Obvious things like "avoid contact with water" and "handle carefully" are a given, but hearing aids are small, delicate devices that require mindfulness. Here are some things you should know about owning hearing aids.
• Don't set them down in the bathroom or kitchen. These are places that see a lot of action and liquids, so it's best that you don't stash them there, even for a moment. It only takes a second for them to get swept into the sink or covered with water.
• Avoid using hairspray or hair products while wearing your hearing aids. If you regularly use hairspray or hair gel, try to find another alternative. The gunky spray can build up inside your hearing aids and cause problems.
• Keep them away from pets and children. Pets and infants can easily swallow or chew on hearing aids, and older children might break or misplace them. It's best to keep your hearing aids in a place that the pets and kids can't touch.
• Replace your batteries often. This goes double if you live in a cold climate. Disposable batteries run out quickly, especially if you have a hearing aid with many features. Make sure to carry backup batteries with you and replace them as soon as they go dead.
• Turn off your hearing aids and remove the batteries when you're not using them. This will save power and allow the battery compartment to air out. If you use rechargeable hearing aids, you don't have to worry about this as much.
The Importance of Regular Ear Cleaning
Before we get into cleaning your hearing aids, it's important to touch on the importance of keeping your ears clean, too. Your hearing aids go into your ears, which is where they pick up earwax and skin debris. If you look after your ears, cleaning your hearing aids will be much easier. The stimulation of your hearing aids inside your ear can also cause more earwax production, so you'll want to clear it away to avoid buildup and blockages.
While many people clean their ears using Q-Tips, this is actually unsafe and not recommended. Instead, use the swab to gently brush around the entrance of your ear, and wipe your outer ear clean with a wet rag. This will get rid of any earwax that has worked its way to the surface of your ear. If you are prone to blockages, speak to your doctor about a professional ear cleaning.
For more information on the Hearing Aid Brush with Wire Loop and Magnet or any other hearing aid or hearing aid accessory, please feel please to use the chat system, or email us info@hearsource.com or call 1-800-416-2434, Monday thru Friday, 9:00 a.m. to 9:00 p.m. Eastern Time (6:00 a.m. to 6:00 p.m. Pacific Time) USA.
Terms and Conditions of Purchase, Warranty, 45-Day Return/Refund Policy on all Products Sold By HearSource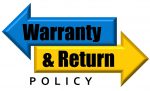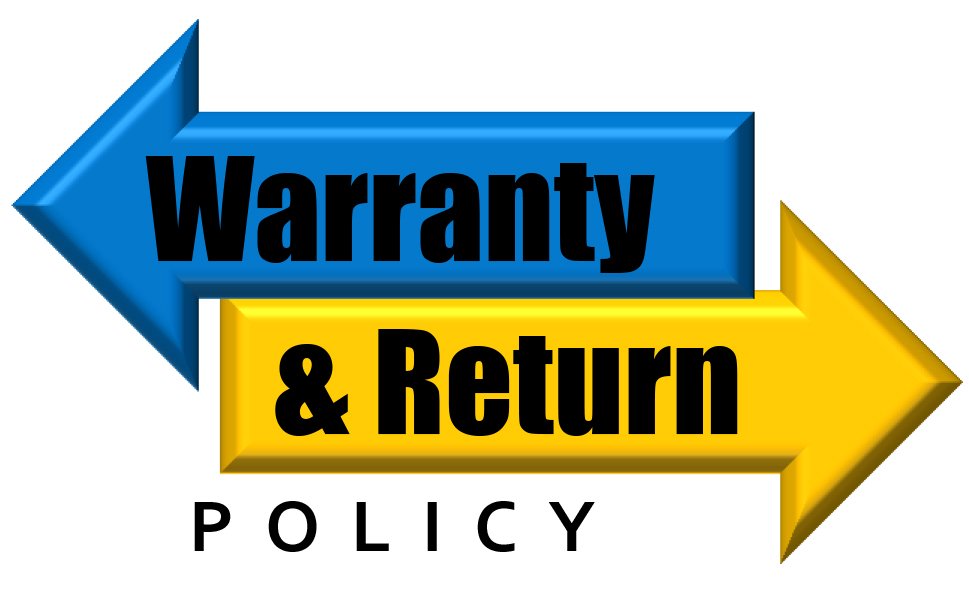 By purchasing products or services from HearSource, you do hereby agree to the following new product warranty, hearing aid repair warranty, return policy, and all other terms and conditions. 
All new merchandise or products purchased from HearSource are warranted against material or manufacturing defect by the original manufacturer for a minimum period of one year (certain hearing aid models may have warranties from the manufacturer for two or three years) from the date of shipping from our facility to your address. At our sole discretion we may repair, exchange, replace or upgrade any defective product that you have purchased from us. Additional/extended warranties are available for purchase at additional cost. Please contact HearSource for additional information concerning extended warranties. This warranty is non-transferable and applies only to the original purchaser. To obtain warranty service on any HearSource product, please include a check for processing, shipping & handling of $19.95.
Hearing Aid Repair Warranty
All hearing aids repaired by HearSource are warranted for six months from the date of shipment to you unless you have specifically requested and paid the additional $50 fee for a one year warranty. To obtain warranty service on any HearSource repair, please enclose a check for processing, shipping & handling for $19.95
Return Policy, 45-Day Money Back Policy
HearSource offers only the best brand names and the highest quality goods. We provide a 45-day return for refund policy.  If for any reason, you are not satisfied with your purchase, simply contact HearSource at 1-800-416-2434 and request a RMA authorization (Return Merchandise Authorization) number.
Return the item(s) in the original, undamaged condition (including all original materials, packaging and accessories) within 45-days of our shipping date to you of any product for refund. Returned merchandise must be received by us at our HearSource location within 45-days of our shipping date to you. If you have any questions or concerns regarding your order or our return policy, please contact us directly at 1-800-416-2434.
Call 1-800-416-2434, Monday through Friday, 9:00 a.m. to 4:30 p.m., Eastern Time Zone, USA, to obtain your required RMA authorization number. Your shipping and handling charges for products you ship or return to us are non-refundable. You may want to insure your return; as we cannot be held responsible for products damaged, lost or misdirected via shipping.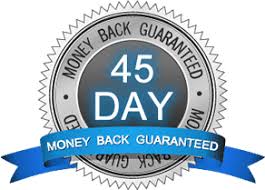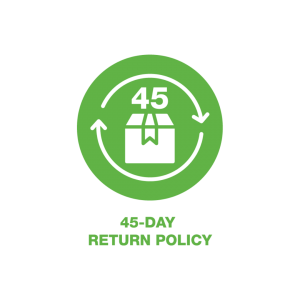 After we receive the product for return, your refund will be made to you in the manor in which you paid. For example; if you paid using a credit card, your refund will be applied to that specific credit card. If you paid by cash or check, your refund will be in the form of a check.
With your RMA clearly identified in the shipping address back to us, please ship return merchandise to:
HearSource
RMA #XXXXXX
108 E. Pat Rady Way, P.O. Box 364
Bainbridge, IN  46105
You may also return any item for exchange or replacement within 45-days of the shipment date due to material defect or damage during shipment. After 45-days, defective or damaged products will be repaired or replaced under the specific manufacturer's warranty policy.