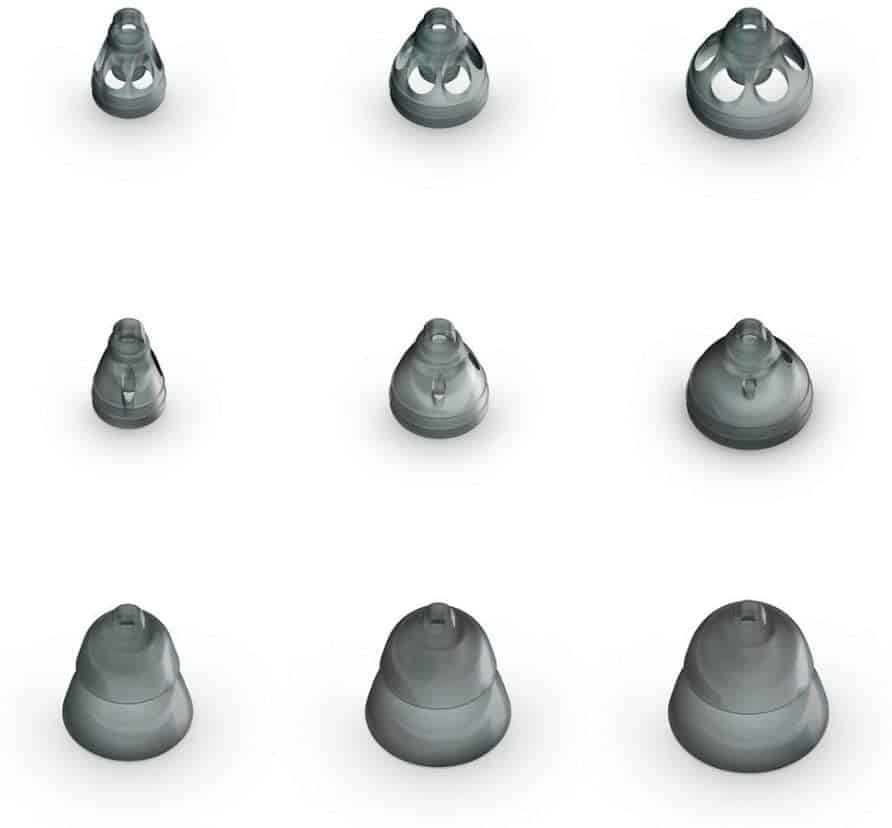 Phonak – Unitron Hearing Aid Domes
Our Price: $10.00 each
Phonak – Unitron Hearing Aid Domes
Comfortable. Silicone Domes for use with Thin Tube and Receiver-In-Canal Hearing Aids.
Silicone Hearing Aid Domes fit the end of Thin-Tube and RIC Hearing Aids.
Size? Measure the widest diameter of the silicone tip.
Color: Smokey
Hearing Aid Domes come four to a package (4)
Description
Phonak - Unitron Hearing Aid Domes
Phonak – Unitron Hearing Aid Domes are the small silicone bell-shaped pieces located on the end of a thin tube or Receiver-In-Canal (RIC) hearing aids. This is the actual physical piece that is inserted in your ear. The proper choice of style and size dome makes a significant difference in comfort and sound quality when wearing hearing aids.
Phonak – Unitron Hearing Aid Domes come in three (3) styles (open, closed and power) and each with three (3) sizes (small, medium and large).
Note:  Phonak no longer produces the clear domes.  All domes will be the dark or smokey gray color.
Phonak – Unitron Open Fit Hearing Aid Domes have openings in them that allow sound to pass through from outside of the ear through and into the ear canal. This open fit concept allows for a very natural sounding hearing experience with hearing aids. This open fit style also helps prevent the occlusion effect or the plugged up feeling some experience while wearing their hearing aids.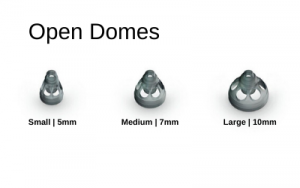 Phonak – Unitron Closed Hearing Aid Domes are mostly closed hearing aid domes with small vents. These domes are more occluding and hold sound in the ear more than open domes.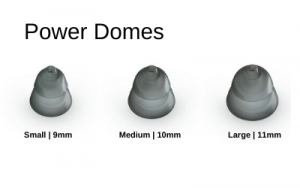 Phonak – Unitron Power (Double) Domes are the most occluding hearing aid domes. Power Domes have no vents. These domes hold the most sound in the ear and are generally used for low frequency and more severe hearing losses.
Phonak – Unitron Silicon Hearing Aid Domes, 4 Per Pack
Hearing Aid Domes are available in the following sizes:
Small – approx 5 mm
Medium – approx 7 mm (Most Common)
Large – approx 10 mm
Phonak – Unitron Hearing Aid domes fit many brands of hearing aids. See list below.
Attaches to end of Phonak/Unitron and many other other thin tube and RIC hearing aids.
Replace discolored or damaged domes.
Replace every 6 – 10 weeks or whenever they pull off the hearing aid tip too easily.
Always ensure that the new replacement dome is pushed firmly onto the tubing completely before inserting the hearing aid tip into the ear canal.
Factory Original Replacement Phonak - Unitron Hearing Aid Domes
Please Note: Domes come in the Smokey color only
Made from soft comfortable silicone in Open Fit, Closed and Power (Double) Hearing Aid dome styles. Use the Phonak – Unitron hearing aid domes with Unitron, Phonak and many other hearing aid thin tube and Receiver-In-Canal type hearing aids. The Phonak – Unitron hearing aid domes slide over the end of the thin tube or receiver (The in-the-ear part of the hearing aids). Although the Domes fit snugly on the hearing aid Tubes/Tips, they are relatively easy to get on and off. To get the size you may need, measure the widest diameter of the dome in millimeters.
Phonak - Unitron Hearing Aid Domes Description & Options
Phonak – Unitron domes come four to a package (4) and are available in the following sizes:
Small open hearing aid dome – approximately 5 mm
Small closed hearing aid dome – approximately 5 mm
Medium open hearing aid dome (Most Common) – approximately 7 mm
Medium closed hearing aid dome – approximately 7 mm
Large open hearing aid dome – approximately 10 mm
Large closed hearing aid dome – approximately 10 mm
Tulip short hearing aid dome (for feedback control)
9 – 10 mm power hearing aid dome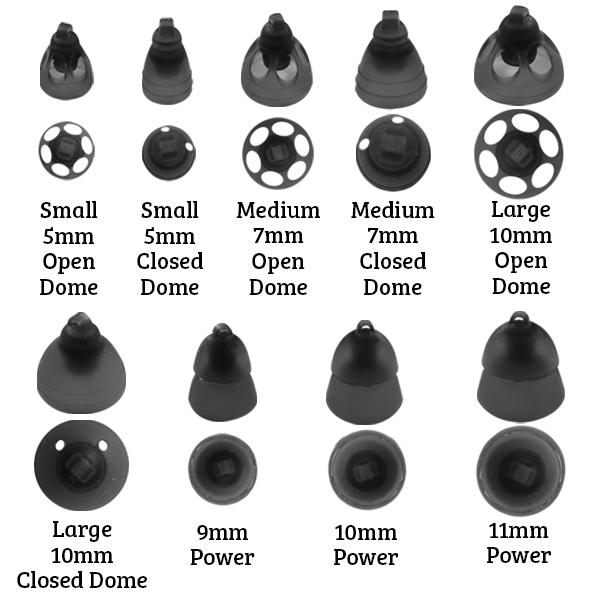 Phonak - Unitron Hearing Aid Domes Compatibility
Audicus Hearing Aids
Audicus Dia IIAudicus Oro
Bach 12
Bach 14
Bach 16
Bach 20
Embrace Hearing Aids
Embrace Hearing H-300
Embrace Hearing H-700
Embrace Hearing H-100 
Phonak Exelia
Phonak Micro Eleva
Phonak Micro Savia
Phonak Extra
Phonak Certena
Phonak Cassia
Phonak Certena
Phonak Milo
Phonak Versata
Phonak Solana
Phonak Versata
Phonak Naida Series
Phonak Savia Series
Phonak OK Series
Phonak Ambra
Phonak Audeo Series
ALL MDHearing Brand Hearing Aids
ReSound Air
ReSound Alera
ReSound Azure
ReSound Essence
ReSound Live
ReSound MA
ReSound Metrix
ReSound Pixel
ReSound Pixel mini
ReSound Pixel regular
ReSound Pulse
ReSound Quattro
ReSound Silhouette
ReSound Sparx
ReSound X-plore
ReSound Ziga
Unitron
Unitron Conversa
Unitron Element
Unitron Indigo
Unitron Latitude
Unitron Moxi Series
Unitron Next
Unitron NT
Unitron Passport
Unitron Quantum Series
Unitron Shift
Unitron Stride
Unitron Unison Series
Unitron Yuu Series