Signia Pure Charge&Go 3Nx
Our Price: $1,249.00
Signia Pure Charge&Go 3Nx mid-range feature set
Discreet Receiver-In-Canal design
Wireless rechargeable Lithium-Ion battery system
Made for iPhone – Streams directly from your iPhone to hearing aids
Description
Signia Pure Charge&Go 3Nx hearing aids are available from HearSource.com at $1,249 each. 3-year warranty and LIFETIME free remote support and adjustments.
The Signia Pure Charge&Go 3Nx is a Receiver-In-Canal (RIC) hearing aid utilizes a wireless rechargeable Li-Ion battery system. It is the perfect combination of discreet size and maximum performance.
The Signia Pure Charge&Go is Signia's newest, advanced-level, "Made-for-iPhone" hearing aid with advanced "Own Voice" technology, plus wireless recharging. Own Voice Processing detects your own voice and adjusts the output automatically, to provide clearer, sharper hearing in conversations. Signia Pure Charge&Go includes advanced features like Directional SpeechFocus, Tinnitus Relief and discrete control from your iPhone with the myControl app.
It has the capability for treating single-sided deafness with the CROS system.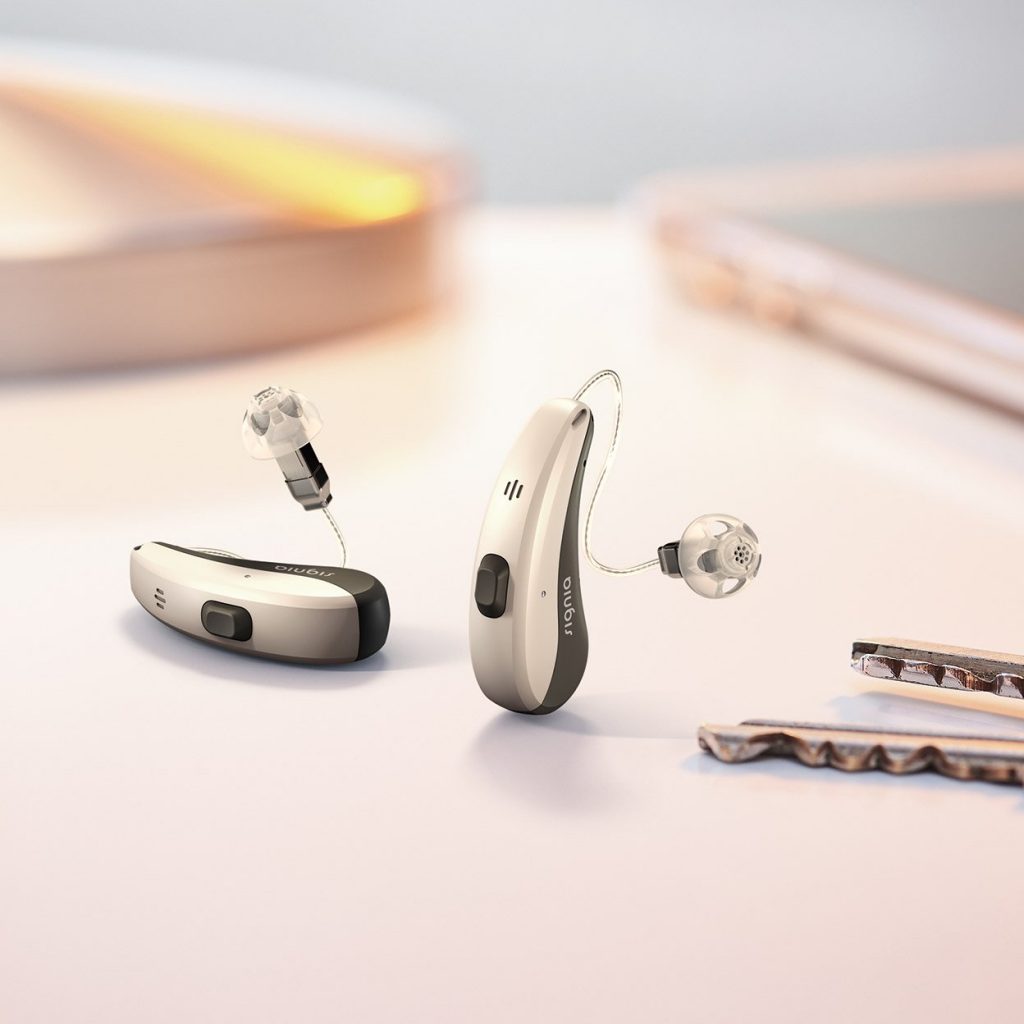 Wireless Charging
Pure Charge&Go comes included with an inductive charger. The hearing aids automatically start charging when placed in their charger and automatically turn on when removed.
Small, Discreet, Sophisticated
Hidden behind your ear, Pure Charge&Go is a real high-tech marvel. It offers the most natural sound and highest hearing performance as well as superior connectivity in a sleek design.
For Most Levels Of Hearing Loss
Pure Charge&Go tackles a wide range of hearing loss from mild to severe, and gives you back the natural sounds of life.
Durable High Performance
Thanks to its rechargeable, high-capacity lithium-ion power cell, Pure Charge&Go offers a long-lasting, superior hearing experience even when you're streaming audio.
Enjoy direct streaming of phone calls, music, and TV.
Stream audio from a theater production straight into your ears, discreetly adjust the volume to suit your preferences while binge-watching a new series on TV, or hear the fastest route to the most famous sights from your navigation app. All you need is a smartphone.
Through the myControl™ App, our new hearing aids offer you supreme connectivity for audio streaming from various sources and remote control – all at your fingertips.
Connect To All Your Smart Devices
Telephone
Stream phone calls directly from your Apple® smartphone* to your hearing aids for complete convenience.

Music
Listen to your favorite music streamed directly from your hearing aids from your Apple device* for an outstanding sound experience.
TV
With StreamLine TV, audio from your television can be fed directly into your hearing aids. You can even start streaming and adjust the volume by using myControl App.

Remote control
The myControl App lets you change your hearing aid settings remotely and personalize your hearing aids to suit your individual preferences.
Pure Charge&Go Comparison Table
Feature
7Nx
5Nx
3Nx
2Nx
1Nx
Pricing
$1,799
$1,449
$1,249
$1,147
$1,049
Channels
48/20
32/16
24/12
16/8
16/8
Hearing Programs
6
6
6
4
4

Ultra HD e2e Wireless

Provides clear speech understanding and a natural impression in even the loudest situations.

Yes
Yes
Yes
No
No
Direct Streaming
Yes
Yes
Yes
Yes
Yes

TwinPhone

Incoming call sounds are played in both ears, rather than in just one ear as most older models would.

Yes
Yes
Yes
No
No

Telecare

Version 3.0 of TeleCare allows for hearing specialists and programming technicians to adjust your hearing aids via Internet connection.

Yes
Yes
Yes
Yes
Yes
Tinnitus Therapies
Yes
Yes
Yes
Yes
No

CROS/BiCROS

Provides transfer of sound from untreatable deaf ear to the other side.

Yes
Yes
Yes
No
No
Pushbutton
Yes
Yes
Yes
Yes
Yes
Volume Control
App
App
App
App
App
Rechargeable
Yes
Yes
Yes
Yes
Yes
Battery Door / On-Off Function
Off when Charging
Off when Charging
Off when Charging
Off when Charging
Off when Charging

Audio Input

Via direct streaming

Yes
Yes
Yes
Yes
Yes

Smartphone Compatibility

iOS and Android: myControl App, myHearing App, touchControl App

Yes
Yes
Yes

Accessory Compatibility

Streamline TV, StreamLine Mic, miniPocket Remote

Yes
Yes
Yes
All HearSource hearing aid purchases include free LIFETIME remote programming and adjustments.
For more information about the Signia Pure Charge&Go Nx 3 or any other products or services, please call 1-800-416-2434, Monday thru Friday, 9:00 a.m. to 9:00 p.m. EST (6:00 a.m. to 6:00 p.m. Pacific Time) USA.