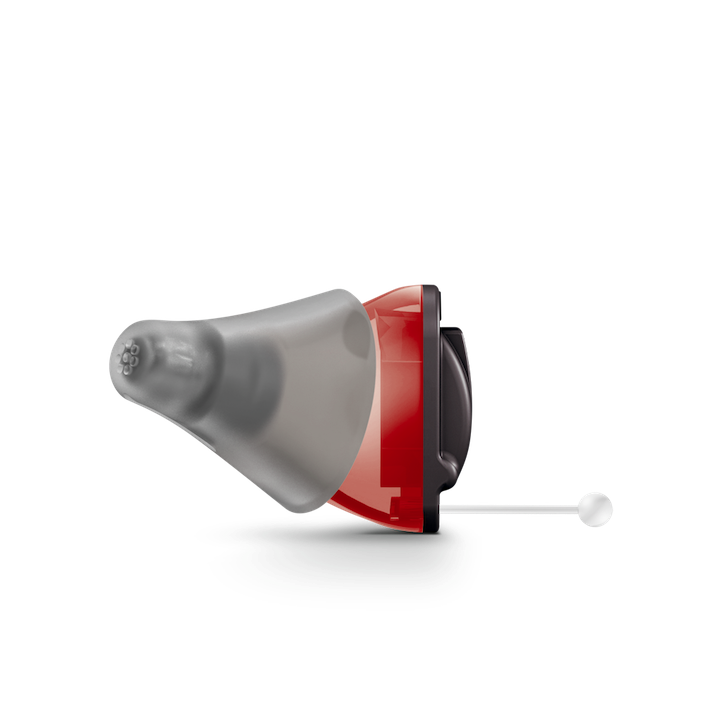 Signia Silk 2X
Hearing Aids
$1,209.00 each
Authorized Retailer
Brand New From the Manufacturer
Flat-Rate Pricing, No Hidden Fees
LIFETIME Remote Support & Sound Adjustments
Description
Signia Silk 2X Hearing Aid
The Signia Silk 2X hearing aid is an affordably priced awesomely powerful better hearing solution.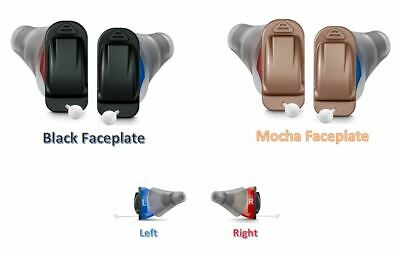 The Signia Silk X family of hearing aids are ready-to-wear Completely-In-Canal (CIC) hearing aid utilizing Ultra HD e2e technology. Ultra HD e2e provides for superior wireless binaural sound processing. It is now almost 20% smaller than previous Silk products, for the ultimate in discreet hearing aid wear. With the flexible silicone "Click Sleeves", Signia Silk 2X offers a precise fit without waiting for custom earmolds to be manufactured.
Signia Silk 2X Features:
Ultra HD e2e for superior speech understanding and a most natural sound
Click Sleeves for a quick and easy fit
Even smaller than its predecessor
Invisible and discreet
Binaural OneMic directionality
And for wearers with un-treatable hearing loss in one ear, CROS Signia Silk 2X provides the most discreet solution – the world's first 
CROS
 CIC hearing aid.
The smallest and most natural sounding ready-to-wear hearing aids.
Whether you're spending time with the important people in your life or meeting someone new, Signia's latest Silk 2X hearing aids give you the confidence of knowing that no one will notice you're wearing them.
One of the world's smallest hearing aids, the Signia Silk 2X is ready to wear on the spot thanks to their extremely soft silicone sleeves that allow them to hide comfortably in your ear. Looking good and hearing well has never been so quick and simple.
The ultimate in discretion
Signia Silk 2X is 20% smaller than its predecessor, making it practically invisible in the ear.
Click, fit, and go
Available in different sizes, the silicone sleeves simply click onto the Signia Silk 2X hearing aids and sit securely in the ear canal for a completely natural, perfect fit on the spot. Unlike other in-the-ear hearing aids, you don't have to wait for a custom-made housing.
Clear color coding
The color coding of red for right and blue for left helps you easily identify the correct aid for the correct ear.
Signia Silk 2X Technology Level Features:
Perfectly positioned for phone calls and music.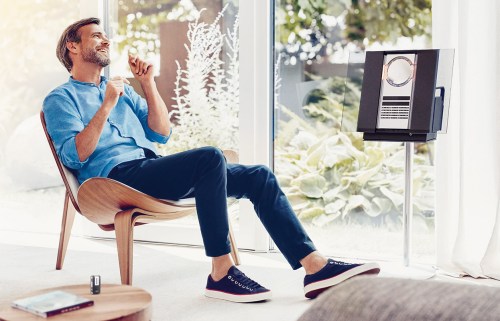 Unlike hearing aids that sit behind the ear, Signia Silk 2X microphones pick up sound inside the ear canal. This enables you to make phone calls and listen to music naturally. You can even use over-ear headphones!
With Signia's TwinPhone functionality, activated via touchControl App or miniPocket accessory, you can hear a phone call in both hearing aids despite holding your phone up to one ear. Music and TV streaming are not supported.
Wearing the Signia Silk 2X is so natural you might forget you're wearing hearing aids.
Whether it's a crowded street, an open-plan office, or a busy restaurant, wherever there's a high level of ambient noise, holding a conversation requires concentration and effort.
Signia Silk 2X hearing aids tackle these challenges expertly, replicating the natural way we localize sound. They focus on what's important, such as your conversation partner, while filtering unwanted background noise. You hear most clearly what you want to hear. All day long. In every situation.
Crystal-clear sound with a natural flow.
Inserting a Signia Silk 2X hearing aid into your ear canal.
Carefully push the hearing instrument into the ear canal. Pay special attention to the removal cord indicating the bottom. – Twist it slightly until it sits well.
Open and close your mouth to avoid the accumulation of air in the ear canal.
miniPocket
Discreet control
The ideal solution for anyone who wants discreet, convenient control of their Signia Silk 2X hearing aids without the need for a large remote control or smartphone. Reliable and easy to use, the miniPocket is small enough to carry on a key ring yet powerful enough to control all essential features.
Signia Click Sleeves
The quick-change artists
Available in different sizes, extremely soft silicone sleeves click easily onto your Signia Silk 2X hearing aids. They sit securely in your ears for a completely natural, perfect fit immediately — no need to wait for custom-made housings as with other in-the-ear hearing aids.
Premium acoustic coupling offers improved feedback stability, superior wearing comfort, and retention together with instant fitting.
How to change a click sleeve on a Signia Silk 2X hearing aid.
The highly adaptable, disposable soft-silicone Click Sleeves ensure a level of comfort and retention of the hearing aid in the ear. They come in closed and vented versions.
A new XS size (in addition to S, M, and L) increases fit rates, while the new smoky color strengthens durability for longer wearing time. Helpful side indication provides orientation for users when inserting the hearing aids. And clever turn protection delivers extraordinary wearing comfort.
A touch is all it takes.
Turn your smartphone into a discreet remote control for your Signia Silk 2X hearing aids. The App lets you enjoy a high level of handling comfort right at your fingertips.
Change hearing programs and adjust the volume, bass, and treble to suit your needs. All you need is a smartphone.
The App allows users to discreetly control their hearing instruments from their Android or iOS smartphone without the need for any additional hardware. The app, which lets users change hearing programs and adjust the volume, is free to download from the Google Play Store or Apple App Store.
The gold standard in remote hearing aid assistance
All HearSource hearing aid purchases include free LIFETIME remote support and adjustments.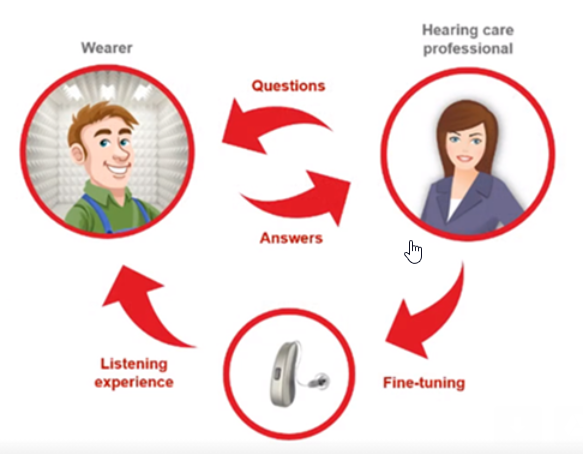 HearSource uses TeleCare to achieve higher customer satisfaction. We incorporate flexible working options into your lifestyle. Remote tuning, CareChat (including text message, phone call, or video call), and virtual follow-ups allow for more communication and appointment options.
TeleCare allows us to get immediate and real-time feedback from you in case you are not satisfied with any sound settings.
TeleCare is an acclaimed TeleHealth solution that you can use without any personal data concerns as we provide a certified and secure system. You can be fully confident that your data is safely protected.
At a time when reducing the spread of the coronavirus is on many people's minds, remote assistance for hearing aids is essential.
All HearSource hearing aid purchases include free LIFETIME remote support and adjustments.
Signia is a premium hearing aid brand, previously known as Siemens Hearing Aids. They produce awesome natural-sounding hearing aids and HearSource is committed to dispensing them at affordable prices with the highest level of customer care and support possible. The Signia Silk 2X is built utilizing the X platform, these world-leading hearing aids actually outperform normal hearing in challenging listening situations.
With roots dating back to 1878, when Werner von Siemens developed an improved telephone receiver after noticing people with hearing loss had trouble understanding transmissions. From this foundation, they have built a legacy in the spirit of entrepreneurship, courage, empathy, and the desire to help others.
Their adventurous and innovative employees have helped millions of people live better lives. Their dedication to helping improve the lives of those with hearing loss has been a tradition for over 130 years.
Signia produces hearing aids that are capable of providing 25% better speech understanding in noise than individuals with normal hearing. It all works through subtle and sophisticated amplification adaptable to a wide range of listening environments including restaurants, parties, and sporting events. You can trust the Signia name to address your hearing loss.
In 2019, Signia merged with Widex hearing aids to form a new company, WS Audiology. Signia will continue to be an independent brand offering comfortable, quality, high-performing hearing aids to the hearing impaired.
For more information on Signia Silk 2X hearing aids, please call 1-800-416-2434 Monday thru Friday, 9:00 a.m. to 9:00 p.m. Eastern Time (6:00 a.m. to 6:00 p.m. Pacific Time) USA.
The use of the Signia or Siemens logo or name and other relevant educational materials on this website are purely for informational purposes about their products we offer for sale.
Terms and Conditions of Purchase, Warranty, 45-Day Return/Refund Policy on all Products Sold By HearSource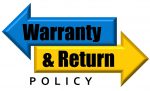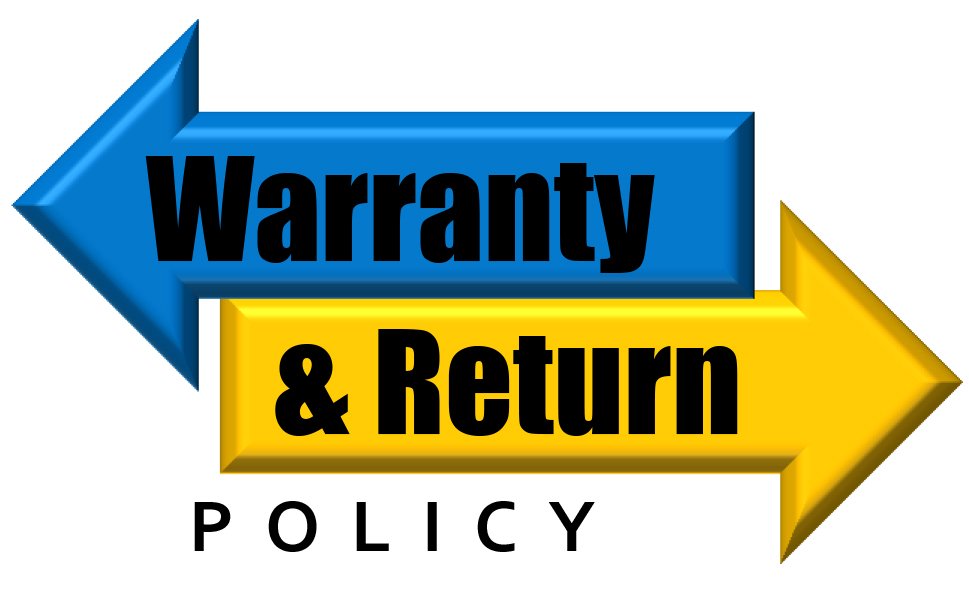 By purchasing products or services from HearSource, you do hereby agree to the following new product warranty, hearing aid repair warranty, return policy, and all other terms and conditions. 
All new merchandise or products purchased from HearSource are warranted against material or manufacturing defect by the original manufacturer for a minimum period of one year (certain hearing aid models may have warranties from the manufacturer for two or three years) from the date of shipping from our facility to your address. At our sole discretion we may repair, exchange, replace or upgrade any defective product that you have purchased from us. Additional/extended warranties are available for purchase at additional cost. Please contact HearSource for additional information concerning extended warranties. This warranty is non-transferable and applies only to the original purchaser. To obtain warranty service on any HearSource product, please include a check for processing, shipping & handling of $19.95.
Hearing Aid Repair Warranty
All hearing aids repaired by HearSource are warranted for six months from the date of shipment to you unless you have specifically requested and paid the additional $50 fee for a one year warranty. To obtain warranty service on any HearSource repair, please enclose a check for processing, shipping & handling for $19.95
Return Policy, 45-Day Money Back Policy
HearSource offers only the best brand names and the highest quality goods. We provide a 45-day return for refund policy.  If for any reason, you are not satisfied with your purchase, simply contact HearSource at 1-800-416-2434 and request a RMA authorization (Return Merchandise Authorization) number.
Return the item(s) in the original, undamaged condition (including all original materials, packaging and accessories) within 45-days of our shipping date to you of any product for refund. Returned merchandise must be received by us at our HearSource location within 45-days of our shipping date to you. If you have any questions or concerns regarding your order or our return policy, please contact us directly at 1-800-416-2434.
Call 1-800-416-2434, Monday through Friday, 9:00 a.m. to 4:30 p.m., Eastern Time Zone, USA, to obtain your required RMA authorization number. Your shipping and handling charges for products you ship or return to us are non-refundable. You may want to insure your return; as we cannot be held responsible for products damaged, lost or misdirected via shipping.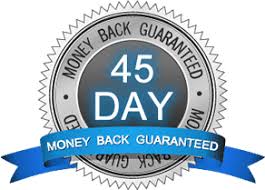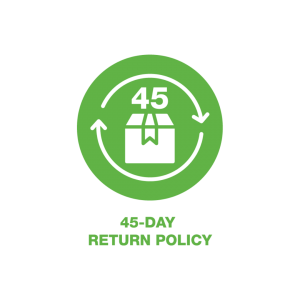 After we receive the product for return, your refund will be made to you in the manor in which you paid. For example; if you paid using a credit card, your refund will be applied to that specific credit card. If you paid by cash or check, your refund will be in the form of a check.
With your RMA clearly identified in the shipping address back to us, please ship return merchandise to:
HearSource
RMA #XXXXXX
108 E. Pat Rady Way, P.O. Box 364
Bainbridge, IN  46105
You may also return any item for exchange or replacement within 45-days of the shipment date due to material defect or damage during shipment. After 45-days, defective or damaged products will be repaired or replaced under the specific manufacturer's warranty policy.