Signia Styletto 3AX
Hearing Aids
$1,429.00 each
Small, discreet fashionable design
iPhone hearing aid allows for direct streaming
On-the-go charger included (at no additional charge)
45-day 100% money-back guarantee
3-year warranty
HearSource Tele-Hearing Care available (remote adjustments)
Description
Signia Styletto 3AX transforms the image of hearing aids from necessary medical devices to highly sophisticated hear-wear.
The world's first SLIM-RIC (Receiver-In-Canal) hearing aid combines style with convenient on-the-go rechargeability and high-tech hearing, powered by the AX platform.
Combined with Bluetooth connectivity and renowned AX technology with Own Voice Processing (OVP) for the highest levels of user satisfaction.
Ultra HD e2e provides Narrow Directionality for better than normal hearing, even in challenging listening environments. Twin Phone technology provides the utmost clarity and understanding of speech during phone conversations.
TeleLink provides discreet remote control options via the smartphone touchControl App or the miniPocket remote control, making it easy to adjust hearing aids in any situation. And TeleCare allows us to track your progress and assist with remote sound adjustments.
Style & Uncompromising Hearing Performance
With Signia Styletto 3AX, you have a unique hearing aid that combines:
Exceptional style
Portable rechargeability
A natural hearing experience
Affordable pricing
 
Consumer Study
Consumer studies with 500 people with hearing loss that confirmed Styletto is the solution that users prefer and remember. In fact, Styletto is the preferred choice of 8 out of 10 people (Source – Signia Consumer Study 2018).
Available in three contemporary color combinations:
Black / Silver
Cosmic Blue / Rose Gold
Snow White / Rose Gold.
All Signia Styletto 3AX hearing aids come with a pocket-sized portable charging case that provides a full day of battery charge with enough power to allow for up to 5 hours of direct streaming.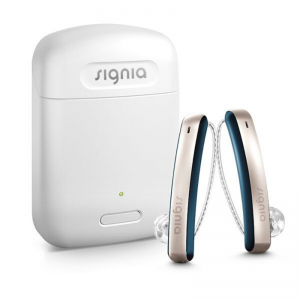 A 3-hour charge results in up to 19 hours of daily use. A 30-minute fast charge provides an additional 5 hours of use – or 3 hours of streaming – for complete flexibility on the go.
The Styletto charger is three times smaller and half the weight of comparable chargers, it is the only charger that you can fit in your pocket to carry with you all day. Thanks to its unique charger, Styletto Connect delivers an astounding four days* of user autonomy, free from plugs or cables – perfect for a relaxing weekend getaway or an important business trip.
* Four days assumes 16 hours of use per day.
Signia Styletto is available in three performance levels, 7, 5, and 3
All HearSource hearing aid purchases include free LIFETIME remote support and adjustments.
For more information about the Signia Styletto 3AX hearing aid system or any other of our products or services, please call
1-800-416-2434, Monday thru Friday, 9:00 a.m. to 9:00 p.m. EST, (6:00 a.m. to 6:00 p.m. Pacific Time) USA.
The use of the Signia logo or name and other relevant educational materials on this website is purely for informational purposes about the products we offer for sale.
Terms and Conditions of Purchase, Warranty, 45-Day Return/Refund Policy on all Products Sold By HearSource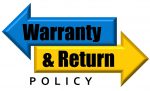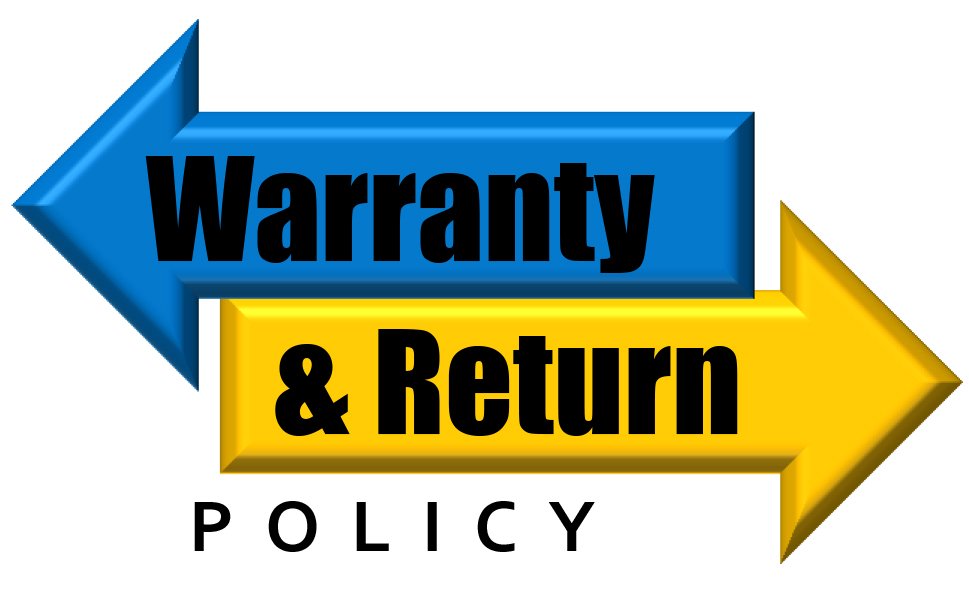 By purchasing products or services from HearSource, you do hereby agree to the following new product warranty, hearing aid repair warranty, return policy, and all other terms and conditions. 
All new merchandise or products purchased from HearSource are warranted against material or manufacturing defect by the original manufacturer for a minimum period of one year (certain hearing aid models may have warranties from the manufacturer for two or three years) from the date of shipping from our facility to your address. At our sole discretion we may repair, exchange, replace or upgrade any defective product that you have purchased from us. Additional/extended warranties are available for purchase at additional cost. Please contact HearSource for additional information concerning extended warranties. This warranty is non-transferable and applies only to the original purchaser. To obtain warranty service on any HearSource product, please include a check for processing, shipping & handling of $19.95.
Hearing Aid Repair Warranty
All hearing aids repaired by HearSource are warranted for six months from the date of shipment to you unless you have specifically requested and paid the additional $50 fee for a one year warranty. To obtain warranty service on any HearSource repair, please enclose a check for processing, shipping & handling for $19.95
Return Policy, 45-Day Money Back Policy
HearSource offers only the best brand names and the highest quality goods. We provide a 45-day return for refund policy.  If for any reason, you are not satisfied with your purchase, simply contact HearSource at 1-800-416-2434 and request a RMA authorization (Return Merchandise Authorization) number.
Return the item(s) in the original, undamaged condition (including all original materials, packaging and accessories) within 45-days of our shipping date to you of any product for refund. Returned merchandise must be received by us at our HearSource location within 45-days of our shipping date to you. If you have any questions or concerns regarding your order or our return policy, please contact us directly at 1-800-416-2434.
Call 1-800-416-2434, Monday through Friday, 9:00 a.m. to 4:30 p.m., Eastern Time Zone, USA, to obtain your required RMA authorization number. Your shipping and handling charges for products you ship or return to us are non-refundable. You may want to insure your return; as we cannot be held responsible for products damaged, lost or misdirected via shipping.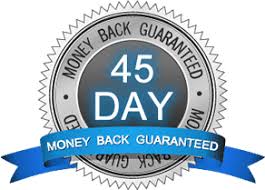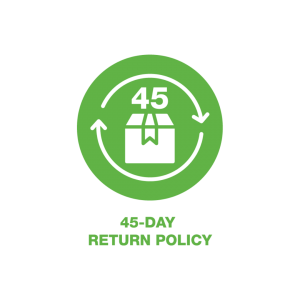 After we receive the product for return, your refund will be made to you in the manor in which you paid. For example; if you paid using a credit card, your refund will be applied to that specific credit card. If you paid by cash or check, your refund will be in the form of a check.
With your RMA clearly identified in the shipping address back to us, please ship return merchandise to:
HearSource
RMA #XXXXXX
108 E. Pat Rady Way, P.O. Box 364
Bainbridge, IN  46105
You may also return any item for exchange or replacement within 45-days of the shipment date due to material defect or damage during shipment. After 45-days, defective or damaged products will be repaired or replaced under the specific manufacturer's warranty policy.