Widex MOMENT 330 mRIC R D
Rechargeable Hearing Aid
Our Price: $1,787.00
WIDEX MOMENT 330 mRIC R D is the smallest lithium-ion rechargeable hearing aid on the market.
Available Now!
Description
Widex MOMENT 330 mRIC R D
78Widex's newest hearing aid family. Widex MOMENT 330 Receiver-In-Canal (RIC) mRIC R D hearing aid, available from HearSource for only $1,787 ea. Free LIFETIME remote support & sound adjustments included. 3-year manufacturer warranty. 3-year loss and damage coverage.
Hear the moment with pure, natural sound
Live in the moment with lithium-ion rechargeability and Bluetooth connectivity
Be in the moment with AI-powered personalization and data-driven evolution
The MOMENT 330 Rechargeable hearing aid is among Widex's newest family of hearing aids and is based on their new MOMENT platform, with PureSound and ZeroDelay technology. The Widex MOMENT uses TrueAccoustics technology. TrueAccoustics overcomes the challenges of fitting open/vented receivers for mild to moderate hearing losses.
The Moment 330 is the newest lithium-Ion rechargeable hearing aid offering from Widex. The MOMENT family of hearing aids offers a full range of hearing solutions utilizing the most advanced digital hearing technologies. This hearing aid includes Artificial Intelligence and Machine Learning technologies. This hearing aid is considered "Made for iPhone" and "Made for Android".
The MOMENT continues Widex's era of intelligent hearing products. Machine Learning provides for the future update and algorithm improvements to be able to be downloaded into your existing hearing aids. MOMENT hearing aids will evolve and improve over time. MOMENT not only learns from you, but everyone around the world who uses them.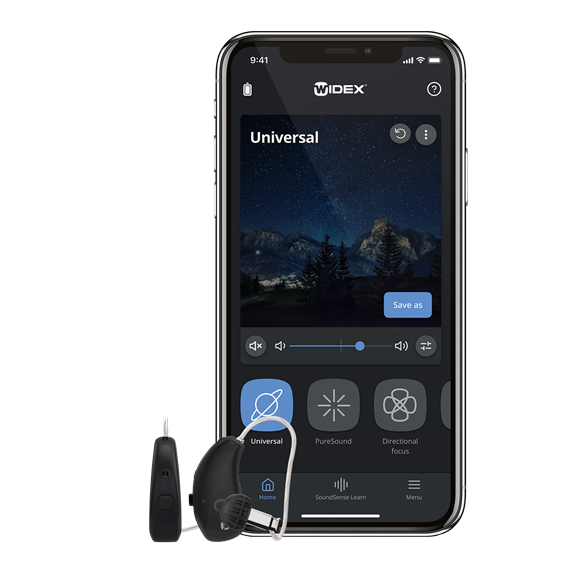 THIS SOUND CHANGES
EVERYTHING
ALL HEARING AIDS WILL BE COMPARED TO THIS ONE
Meet the first hearing aid that doesn't sound like a hearing aid. 
Widex knows that the best hearing experience starts with the perfect delivery of sound to the ear. Therefore, if Widex is to set a new standard for hearing aid sound quality, they must change the paradigm for ideal sound. Changing the paradigm of sound with a revolutionary NEW platform – Widex MOMENT. 
The MOMENT delivers the most pure, natural sound ever. Typically, sound processed in a hearing aid hits the eardrum a millisecond later than direct sound, causing artifacts. But now you can hear like never before. From the very first Moment.
With the new Widex MOMENT family of hearing aids, Widex has achieved this goal. they have created a revolutionary way to process sound – an industry-defining, ultra-fast signal pathway that eradicates the inherent artifacts in classic hearing solutions. Widex call this new hearing experience PureSound powered by ZeroDelay technology.
SMALLEST RECHARGEABLE
HEARING AID EVER
Widex managed to fit all the benefits of the Widex MOMENT 330 mRIC R D into the smallest lithium-ion rechargeable hearing aid package on the market.
You can rest easy knowing you'll always have the power you need in a discreet hearing solution. Plus, you'll never have to struggle with hearing aid batteries.
The 2.4 GHz hearing aid is ready for direct streaming from iOS and DEX via the Widex MOMENT app. It's also prepared for future connections with Android. Two new, small and powerful receivers cover a wide hearing range. The new receiver design conveniently works with all Widex ear tips.
OUR BEST MOISTURE PROTECTION YET
Advanced water-resistant nano coating reduces the risk of moisture damage in all of our Widex RIC models.
No battery door in the rechargeable RIC also means fewer gaps for moisture entry. The rechargeable's more durable mic, new mic inlet design, connector o-ring and wireless charging are also crafted to improve moisture resistance.
A BREAKTHROUGH
EVERYONE CAN HEAR
Thanks to the ultra fast ZeroDelay pathway on the Widex MOMENT platform, Widex PureSound makes a real, audible difference to users. Research shows that a large majority of both new and experienced users prefer Widex PureSound across different sound and listening environments.
Widex Moment 330 RIC Rechargeable Hearing Aid Features:
HearSource Remote Support and Remote Adjustments compatible
Made for iPhone
Android smartphone compatible (For specific models)
Sound Class Technology: Automatically adjusts to 7 different sound environments
SoundSense Learn: Machine learning provides an ever-improving hearing experience
SoundSense Adapt: Remembers wearers preferred settings across multiple sound classes
12 Channel Processing 
Direct Audio Streaming
Stream in Stereo from iPhone
Up to 4 preset sound programs
High Definition Locator
Automatic Adaptive Directionality
Speech Enhancer
Multi-directional Feedback Cancelling
Zen & Zen+
Variable Speed Compression
True-Input Technology
Soft Noise Level Reduction
Audibility Extender
Hammer Detector
SmartSpeak & SmartTone
2.4 GHz Bluetooth connectivity
Smartphone App allows for direct streaming of audio
Compatible with DEX accessories
Uses M, or P receiver
Uses Lithium-Ion rechargeable hearing aid battery
Protection class IP68
Fits Mild to Severe hearing losses
TruSound Softener
Reverse focus program
Moment Model Comparison Chart
Features
440
330
220
Pricing

$1987

$1787

$1587

Processing and Fine Tuning Channels
15
12
10

PureSound &

ZeroDelay

Ultra-fast signal processing eliminates 'echo' feeling, and produces the most true, warmest sound on the market today.

Y
Y
Y
Programs
5
4
3
Smartwind Manager
Y
High-frequency Boost
Y
Digital Pinna
Y
Y
Speech/Music Streaming Template

Y

Y

Wireless CROS
Compatible
Y
Y
Y

Connects to DEX-assistive listening devices

Also includes DEX assistive listening devices: CALL-DEX, TV-DEX, COM-DEX, UNI-DEX, RC-DEX, FM+DEX, PHONE-DEX, and COM-DEX Remote Mic.

Y
Y
Y
TONELINK APP (iOS / Android)
Y
Y
Y

Widex Moment App /

Widex ToneLink App

Widex ToneLink App uses your smartphone (iOS/Android) as a remote control, and the Moment App accesses SoundSense Learn and other fine-tuning adjustments.

Y
Y
Y
COM-DEX App (iOS / Android)
Y
Y
Y
Hammer Detector
Y
Y
Y
HD Locator
Channels
15
12
10
TruSound Softener
Y
Y
Y
SoundSense Adapt
Y
Y
Y
Preference Control
Y
Y
Y

Program Push Button

Programmed for: Comfort control, program shift or a combination of the two.

Y
Y
Y
Soft-level Noise Reduction
Y
Y
Y
Noise Reduction
Y
Y
Y
Zen

IE

Intra-Ear: hearing aids communicate left-right to double computing power.

Y
Y
Y
Audibility Extender
Y
Y
Y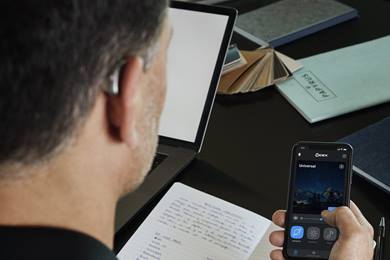 SoundSense Learn uses real-time machine learning to intuitively guide users toward a more personalized sound. With just a few taps in a smartphone app, you can decide how you want to hear. Tests show that the new Widex MOMENT app interface gives an improved user experience.
HearSource's Widex REMOTE CARE allows us to fine-tune our clients' hearing aids remotely without compromise. Because all the data shared via Real-Life Insights is also available within Widex REMOTE CARE, we can provide remote sound adjustments based on your actual hearing challenges, wherever you are.
NATURAL SOUND POWERED BY ARTIFICIAL INTELLIGENCE
Widex strives to deliver a truly natural better-hearing experience to every client, regardless of hearing loss, hearing aid selection, or personal listening preference. In order to deliver sound as individual as this, Widex created the worlds only hearing aid that can learn how an individual user wants to hear in the moment.
The Widex AI engine analyzes the wearer's preferences derived via the SoundSense Learn app and quickly presents the tailor-made sound that the wearer is looking for. To date, SoundSense Learn has created almost a million personal sound solutions for Widex users around the world – each one making the Widex AI engine more perceptive than ever before, leading to better "Real World" hearing solutions for every Widex Moment hearing aid user.
WIDEX MOMENT APP
Connect your hearing aids to your smartphone and stream sound or control hearing aid functions. The MOMENT hearing aid app works with Android and Apple devices. Check the compatibility list for supported models.
What you can do with the MOMENT App:
Create your own personalized hearing programs or let the hearing aids automatically adapt themselves
Add locations to sound programs for automatic selection based on where you go
Adjust volume, mute, control streaming
Adjust the directional focus to hear what you want and reduce background noise
Access SoundSense Learn to let MOMENT personalize your hearing in real time
Adjust the bass, mid or treble levels using the equalizer
Access the "Find my hearing aid" feature to help locate your missing or misplaced hearing aids.
Widex MOMENT 330 Receiver-In-Canal (RIC) mRIC R D (2.4 GHz) hearing aids work in perfect unison with Widex TV Play, the most versatile, stable, and straightforward sound streaming solution yet.
Maximum streaming stability lets users move freely around the room without missing a second of the outstanding stereo TV sound the TV Play delivers.
An elegant and versatile TV sound-streaming solution that integrates nicely with modern decor and can be placed in front of or attached to the back of a TV.
Easy to install and seamless to pair, users can easily control the TV Play with the button on their hearing aid, the RC-Dex, or customize their listening experience with the MOMENT Smartphone App.
Widex Phone-Dex 2
All-purpose cordless phone
Connects automatically to Widex MOMENT hearing aids
Crystal clear sound
Easy to see and use color display
Integrated answering machine
Additional handsets available separately
For more information on or to buy the Widex Phone-Dex 2 CLICK HERE.
For more information on the Widex MOMENT 220 mRIC R D lithium-ion rechargeable hearing aid, please call 1-800-416-2434 Monday thru Friday from 9:00 a.m. to 9:00 p.m.Eastern Time (6:00 a.m. to 6:00 p.m. Pacific Time) USA.
Additional information
| | |
| --- | --- |
| Weight | 1 lbs |
| Dimensions | 5 × 4 × 3 in |
| Brand | Widex |
| Widex Hearing Aid Model | MOMENT |
| Hearing Aid Repair Warranty | 3 Year Repair Warranty |
| Battery Sizes | Lithium-Ion Rechargebale |