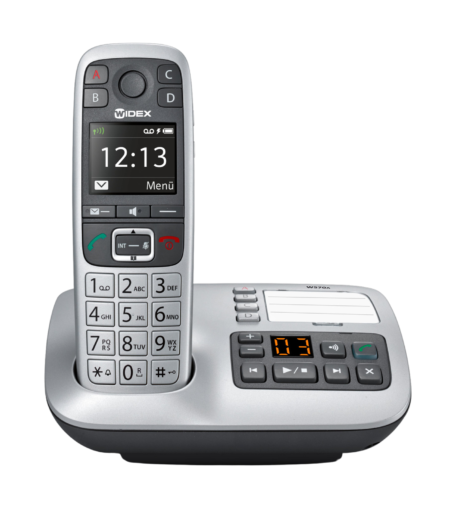 Widex Phone-Dex 2 Cordless Phone
$199.00 each
Authorized Retailer
Compatible with Widex Evoke and Moment hearing aids
Hear calls in both hearing aids
One (1) Year Manufacturer Warranty
Description
A phone for hearing aid wearers – and the entire family.
With a large and intuitive color display, this phone is incredibly easy to use. The only thing you need to do is hold the phone normally.
Works as a normal cordless and conventional landline phone, friends and family can use the phone as they would any other phone. Never miss an important message as it has an integrated answering machine.
Stream home phone calls clearly to your hearing aids
A flexible and functional phone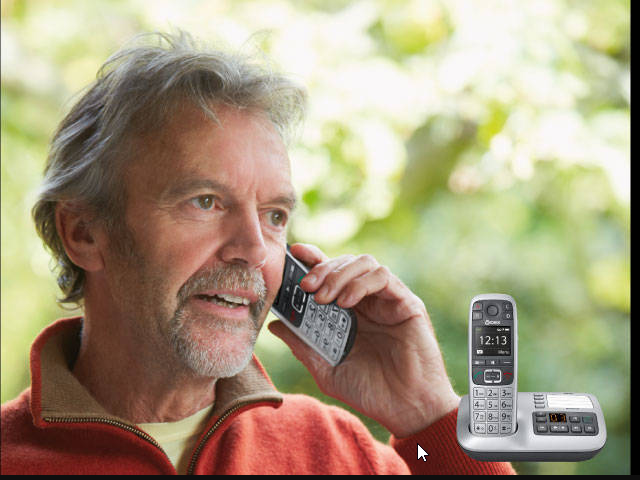 Talking on the phone is easy and enjoyable again. It's ready to use as soon as you are. Connects automatically with EVOKE and Moment hearing aids and provides you with excellent speech understanding in both ears.
Can store up to 150 contacts and comes with a base station that works as a charger. You get 14 hours of phone time and 320 hours on standby. You can enjoy a flexible range of distance from the handheld to the base of up to 50 meters (Roughly 160 ft).
Compatible with 

EVOKE

 and 

Moment hearing aids
Direct communication in both hearing aids
Amplifier for extra loud sound emission
Emergency button
Built-in voice mailbox with a 25-minute recording capacity
Directory of 150 contacts
Adjustable font size
LED light to signal the call
Alarm function
Large color screen
Autonomy: 14-hour talk and 320-hour standby
Handsfree function from base and handset (Speaker Phone)
Range inside towards the base: 50m (Approx. 160 feet)
Supports two additional handsets
Premium cordless phone with direct transmission to Widex hearing aids
This is a premium large button cordless landline phone that transmits phone calls wirelessly and in real-time directly to Widex hearing aids. No supplementary devices are required. You can hear the person you are speaking to directly over both hearing systems and also have the best possible speech comprehension when making calls.
The simplicity of use and modern design are standout features. It also can be used as a traditional landline phone and works without any additional devices or hearing aids.
Comprehensive functions of the phone base station:
• Memory capacity for up to 150 phone numbers
• Answering machine with user function
• Handsfree function with volume control
• Emergency call function
• Range up to 700 ft. from the base station (depending on local conditions)
Operation – Coupling the phone to hearing aids
Keep the phone handset near your hearing system. The phone is automatically coupled to the hearing system.
Canceling a coupling
Move the phone outside the range of the hearing systems.
Changing the volume
You can adjust the volume of the sound transmission or WidexLink transmission is too quiet or
too loud.
Press the volume keys on the right of the handset: at the top: louder / at the bottom: quieter.
Otherwise, the phone works as described in these instructions.
To read the complete Phone-Dex 2 user manual 
For more information on the Widex Phone-Dex 2 phone, please call 1-800–416-2434, Monday thru Friday, 9:00 a.m. to 9:00 p.m. Eastern Time (6:00 a.m. to 6:00 p.m. Pacific Time) USA.
The use of the Widex logo or name and other relevant educational materials on this website is purely for informational purposes about their products we offer for sale.
Terms and Conditions of Purchase, Warranty, 45-Day Return/Refund Policy on all Products Sold By HearSource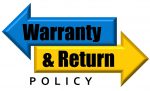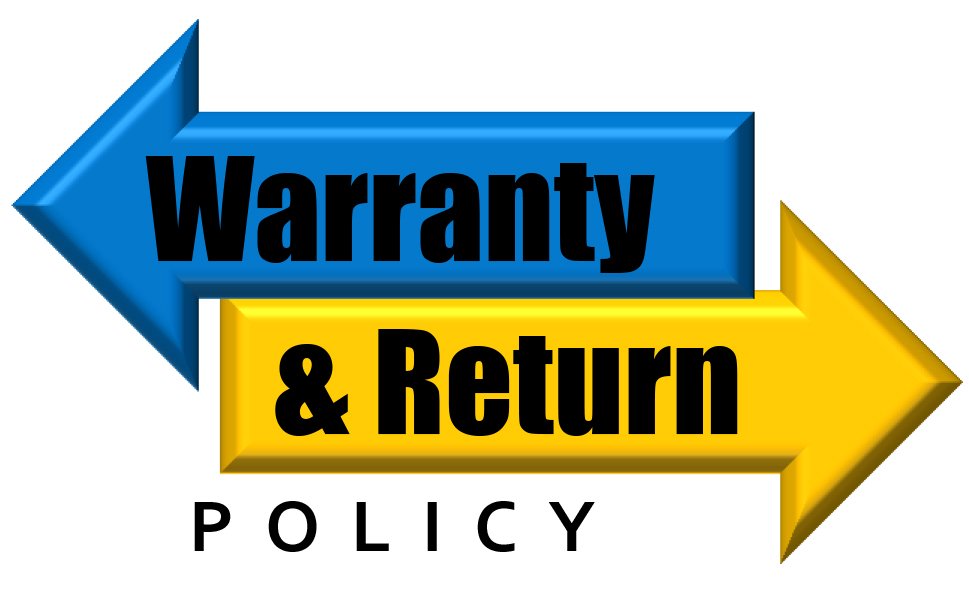 By purchasing products or services from HearSource, you do hereby agree to the following new product warranty, hearing aid repair warranty, return policy, and all other terms and conditions. 
All new merchandise or products purchased from HearSource are warranted against material or manufacturing defect by the original manufacturer for a minimum period of one year (certain hearing aid models may have warranties from the manufacturer for two or three years) from the date of shipping from our facility to your address. At our sole discretion we may repair, exchange, replace or upgrade any defective product that you have purchased from us. Additional/extended warranties are available for purchase at additional cost. Please contact HearSource for additional information concerning extended warranties. This warranty is non-transferable and applies only to the original purchaser. To obtain warranty service on any HearSource product, please include a check for processing, shipping & handling of $19.95.
Hearing Aid Repair Warranty
All hearing aids repaired by HearSource are warranted for six months from the date of shipment to you unless you have specifically requested and paid the additional $50 fee for a one year warranty. To obtain warranty service on any HearSource repair, please enclose a check for processing, shipping & handling for $19.95
Return Policy, 45-Day Money Back Policy
HearSource offers only the best brand names and the highest quality goods. We provide a 45-day return for refund policy.  If for any reason, you are not satisfied with your purchase, simply contact HearSource at 1-800-416-2434 and request a RMA authorization (Return Merchandise Authorization) number.
Return the item(s) in the original, undamaged condition (including all original materials, packaging and accessories) within 45-days of our shipping date to you of any product for refund. Returned merchandise must be received by us at our HearSource location within 45-days of our shipping date to you. If you have any questions or concerns regarding your order or our return policy, please contact us directly at 1-800-416-2434.
Call 1-800-416-2434, Monday through Friday, 9:00 a.m. to 4:30 p.m., Eastern Time Zone, USA, to obtain your required RMA authorization number. Your shipping and handling charges for products you ship or return to us are non-refundable. You may want to insure your return; as we cannot be held responsible for products damaged, lost or misdirected via shipping.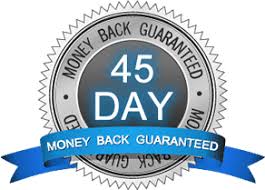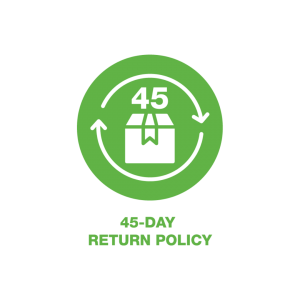 After we receive the product for return, your refund will be made to you in the manor in which you paid. For example; if you paid using a credit card, your refund will be applied to that specific credit card. If you paid by cash or check, your refund will be in the form of a check.
With your RMA clearly identified in the shipping address back to us, please ship return merchandise to:
HearSource
RMA #XXXXXX
108 E. Pat Rady Way, P.O. Box 364
Bainbridge, IN  46105
You may also return any item for exchange or replacement within 45-days of the shipment date due to material defect or damage during shipment. After 45-days, defective or damaged products will be repaired or replaced under the specific manufacturer's warranty policy.