Widex Unique 440 Fusion
Hearing Aid
Our Price: $1,587.00
Description
Widex UNIQUE 440 Hearing Aids
Widex Unique 440 Receiver-In-Canal (RIC) hearing aids, available from HearSource for only $1,587 ea. Free LIFETIME remote support & sound adjustments included. 3-year manufacturer warranty. 3-year loss and damage coverage. Widex UNIQUE 440 hearing aids offer the ultimate in hearing and understanding in average or challenging listening situations, especially when background noise is present.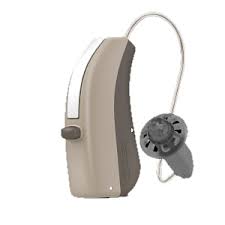 Remote Care Hearing Aid Support
TeleHealth Hearing Care: Remote Hearing Aid Sound Adjustments In Real Time
With HearSource's TeleHealth Hearing Care Services, utilizing Remote Care, you can conveniently receive hearing aid support including, fittings, sound adjustments, and diagnostics for your hearing aids from the comfort of your home, office, or anywhere with an internet or smartphone connection.
Benefits of Remote Care:
Save time by not have to travel to hearing aid office
Stay connected wsith live audio and video connection
Available anywhere where your smartphone receives a signal
CAPTURE EVERY SOUND
True Input Technology captures every element of the soundscape to give you a rich and natural sound experience.
HEAR BETTER IN WIND
SMARTWIND Manager reduces wind noise and helps you enjoy conversation and other sounds in windy situations. 
SMOOTH LISTENING
Sound class technology ensures a comfortable listening experience by automatically adapting to where you are.
STAY CONNECTED
With WidexLink wireless connectivity, you can easily stream phone calls, music and podcasts to your hearing aids. 
ENJOY AN INCREDIBLE 108dB DYNAMIC RANGE
When we say that Widex UNIQUE 440 captures more sound than any other hearing aid, that's exactly what we mean.


UNIQUE is documented to deliver a dynamic range from 5dB SPL up to 113dB SPL.
A complete overall listening experience
A supreme sound experience requires a high dynamic range to have as few artefacts as possible. In the Widex UNIQUE 440, they have increased the input dynamic range so that it can deliver up to 113dB SPL linearly and lowered the noise floor to 5dB SPL- so users can hear important soft sounds but also louder sounds without distortion. The key to this are the four A/D converters in UNIQUE.
INDUSTRY-LEADING NOISE REDUCTION
For many clients, hearing in windy conditions is one of the biggest challenges they face. Widex UNIQUE 440  solves this with the Wind Noise Attenuation system, proven to provide better performance.
And our powerful Soft Level Noise Reduction system ensures that important soft sounds are maintained for users, while unwanted soft sounds are removed.
SIGNIFICANTLY IMPROVED SOUND IN ANY ENVIRONMENT
A sophisticated sound classification system in Widex UNIQUE 440 divides listening environments into 9 distinct sound classes to better suit each user's own sound situation.
An extended soundscape
With four A/D converters, Widex UNIQUE 440 Hearing Aids can handle a very wide range of sounds without any corruption of the incoming signal. This means it works as a transparent entry level in noisy environments where it is always difficult to hear and in quieter situations with soft sounds. Always delivering clean and untainted sound quality – quiet is more quiet, loud is more pleasant.
Widex UNIQUE 440 DIGITAL PLATFORM
– 15 independent channels
– 108 dB linear input dynamic range (Industrial Leading)
– 4 independent analog-to-digital converters
– Real Time InterEar Speech Enhancer
– 15 channel adaptive directionality
– Microphone array adjustment
– Digital Pinna
ULTIMATE SOUND QUALITY
– InterEar Sound Class System
– 9 automatically optimized sound environments
– InterEar variable speed compression
ULTIMATE LISTENING COMFORT IN NOISE
– Wind Noise Attenuation (Industry Leading)
– Soft Level Noise Reduction
– TruSound Softener
– Noise Reduction
ULTIMATE USER-FRIENDLY OPERATION
– Preference Control (Audibility vs Comfort)
– Up to 5 programs for specific listening environments
– Smartphone app via COM-DEX
– Battery life – less than 1.0 mA current drain
ULTIMATE WIRELESS CONNECTIVITY
– Widex Link Wireless platform
– InterEar communication and synchronization
– Full family of DEX wireless accessories
ULTIMATE TINNITUS MANAGEMENT
– InterEar ZEN
– Fractal tone therapy
– Broadband and frequency shaped noise
– Up to 5 user programs
– Volume and timer option
ULTIMATE FREQUENCY RANGE EXPANSION
– Unique audibility extender
– High-frequency lowering
– High-frequency BOOST
– Maximum hearing of soft speech /whispers
Widex Unique Hearing Aids
Models Comparison Chart
Features
440
330
220
110

Pricing

$1587

$1287

$1087

$937

Processing and Fine Tuning Channels
15
10
6
4
Sound Classes
9 (IE)
5 (IE)
3
1
Programs
5
4
3
3
Personal HD Locator
15 ch
10 ch
6 ch
Broadband
TruSound Softener
Y
Y
Y
RT Speech Enhancer
U / IE
U
Digital Pinna
Y
Y
High-frequency Boost
Y

Zen

Zen Programs are designed to provide relief from the effects of tinnitus.

IE

Intra-Ear: hearing aids communicate left-right to double computing power.

IE

Intra-Ear: hearing aids communicate left-right to double computing power.

IE

Intra-Ear: hearing aids communicate left-right to double computing power.

Y

Program Push Button

Programmed for: Comfort control, program shift or a combination of the two.

Y
Y
Y
Y
IE Program Shift
IE
IE
IE
IE

WidexLink to DEX assistive listening devices

Also includes DEX assistive listening devices: TV-DEX, COM-DEX, UNI-DEX, RC-DEX, FM+DEX, PHONE-DEX, and T-DEX.

Y
Y
Y
Y
iOS / Android App
Y
Y
Y
Y
U Platform
Y
Y
Y
Y
Wind Noise Reduction
U
Y
Y
Y
Soft-level Noise Reduction
Y
Y
Y
Y
Noise Reduction
Y
Y
Y
Y
Audibility Extender
U
U
U
U
Variable Speed Compression
U
U
U
U
Preference Control
U
U
U
U
Study shows Widex UNIQUE 440 is a "clear improvement" over other hearing aids
A new Canadian-based clinical trial shows that users prefer UNIQUE hearing aids to their previous models in almost all listening environments. LINK TO READ STUDY.
Results were especially positive in six key areas:
Overall Sound Quality
Richness and Fidelity of Sounds
Ability to Hear Soft Sounds
Use in Noisy Backgrounds
In a Restaurant
Walking or Running Outdoors
Widex UNIQUE 440 Product Summary
The UNIQUE hearing aids are loaded with features, including improved A/D converters for incredibly wide input range, a sound classifier for intelligent listening and the Wind Noise Attenuation system that dramatically reduces wind noise by 8.4 dB.
But the whole is greater than the sum of its parts, and Widex UNIQUE 440 takes precision and performance to a completely new level in the way it captures, purifies and processes sound.
U platform

Unique Sound Class Technology – 9 inter-ear sound classes

Unique Variable Speech Compression

Unique True-Input Technology

15 Channels

Multi-directional Active Inter-ear Feedback Cancelling

5 Programs

Unique Preference control

Unique Wind Noise Attenuation

Digital Pinna

TruSound Softener

Unique Real time Inter-ear Speech Enhancer

Noise Reduction

Unique Soft Level Noise Reduction

15 channel HD Locator

Unique High Frequency Boost

Telephone flexibility including Phone +

Inter-ear Zen

Unique Audibility Extender

Wireless connectivity: 

TV Dex, Phone Dex, Uni-Dex, FM-Dex, RC-Dex, Call-Dex, and Com-Dex.
For more information on the Widex Unique 440 hearing aid. please call 1-800-416-2434, Monday thru Friday, 9:00 a.m. to 9:00 p.m. Eastern time (6:00 a.m. to 6:00 p.m. Pacific time) USA.
Additional information
| | |
| --- | --- |
| Weight | 1 lbs |
| Brand | Widex |
| Widex Hearing Aid Model | Unique |
| Technology Level | Premium |
| Hearing Aid Repair Warranty | 3 Year Repair Warranty |
| Battery Sizes | 312 |
| Smartphone Compatibility | Android Capable – No Direct Stream |
| Audio Streaming | Audio Stream with Accessory – Android, Audio Stream with Accessory – Apple iOS |
| Special Features | Professional Remote Programming |