ZPower Hearing Aid Battery – Rechargeable Size 312
ZPower Hearing Aid Battery
Rechargeable Size 312 (for use in most ZPower hearing aids)
Unique long-lasting silver-zinc rechargeable battery made for ZPower powered hearing aids
Audibel, Beltone, Oticon, ReSound, Starkey, Unitron, Widex hearing aids & More…
Manufacturer has discontinued this product.
Description
ZPower Hearing Aid Battery - Size 312 - $65.00 ea.
Advanced silver-zinc rechargeable hearing aid battery for use with ZPower Hearing Aid Battery Rechargeable Systems.
A Small Battery With BIG Benefits.
ZPower Hearing Aid Battery (Size 312) 
– Rechargeable Silver-Zinc Hearing Aid Batteries
– Manufactured by Riot Energy
For use with most ZPower hearing aids (see application listings below).
After 50 Years and Millions of Miles, Rechargeable Silver-Zinc Hearing Aid Batteries Have Arrived.
During the 1960s, NASA developed silver-zinc batteries for mission-critical applications in spacecraft, including the Apollo command module. Although the batteries offered high energy density, they had narrow applications due to their raw materials expense and low cycle life.
More than 100 patents later, ZPower has led the way in making this superior chemistry smaller and fully rechargeable — and in the process opening a world of exciting new applications.
The ZPower Hearing Aid Battery Rechargeable System. Making the Change to Rechargeable is Easy.
This award-winning Rechargeable System for Hearing Aids makes many of today's most popular hearing aids rechargeable. The Rechargeable System consists of rechargeable silver-zinc batteries, custom hearing aid battery doors that are compatible with both ZPower batteries and zinc air batteries, and a charging station.
Users love the convenience of having hearing aids they can confidently wear all day and recharge overnight. They also love the flexibility to still use disposable batteries, if necessary.
One of the most inconvenient aspects of the hearing aid user's experience is the frequent, endless changing of batteries. ZPower helped change that with the introduction of its rechargeable micro batteries.
In addition to supporting the design of smaller, safer devices, their silver-zinc micro batteries remove the hassle of regularly changing small batteries.
Today, they provide the convenience of rechargeability to one million hearing aid users – and that number is growing every day.
ZPOWER Hearing Aid Batteries – Size 312 SILVER-ZINC RECHARGEABLE MICRO-BATTERIES – See Description for a list of the compatible devices

LONG LASTING – A proprietary silver-zinc micro battery technology that can be recharged hundreds of times without losing significant energy. Batteries should be replaced annually

ECO-FRIENDLY AND SAFE – These batteries are one of the most environmentally responsible batteries available. They are water-based, non-flammable, and fully recyclable

PURCHASE INCLUDES – 1 ZPower Rechargeable Battery (1/Pack)
ZPower Hearing aid Battery, Size 312 Rechargeable Hearing Aid Battery Compatible Applications & Devices
Audibel
– Audibel A4 Platinum Wireless 
Bernafon
– Zerena 

Beltone
– Trust 
– Legend 
– First 
NuEar
– NOWPremier Wireless 
Oticon
– Opn miniRITE 
ReSound
– ReSound LiNX 3D 
Signia
– Signia Pure 
– Rexton Emerald 
Sonic
– Enchant
Starkey
– Muse micro RIC 312
Unitron
– Moxi Fit R
– Stride M R 
Widex
– BEYOND Z 
– WIDEX EVOKE Z 
And Others, call 1-800-416-2434 for more details.
ZPower Hearing Aid Battereies Are Easy To Change
These hearing aid batteries are changed the same way that a traditional hearing aid battery are. Open the battery door (the battery door may be a bit stiff). Insert the battery with the gold side up. Make sure the battery is fully inserted and laying flat. Close the battery door. Place the hearing aid in the ZPower battery charging station overnight.
Your hearing aid should then be ready for all day wear.
ZPower hearing aid batteries should be used in your device within 6 months of purchase for optimal performance.
AMERICAN-MADE POWER AND QUALITY – Every ZPower battery is made by American workers at their manufacturing plant located in Camarillo, California.
From the outset, silver-zinc's combination of stability and high energy density presented tremendous potential for applications that place a high priority on size, safety and performance.
While Li-ion is primarily landfilled or downcycled, silver-zinc is recyclable. It is also mercury-free.
Silver–zinc batteries are one of the most environmentally responsible batteries available. They are water based, nonflammable and fully recyclable.
ZPower batteries have been tested by TUV Rheinland, passing all relevant UL2054 and IEC 62133 safety requirements.
Long-Lasting
Using a patented charging method, they have significantly extended the typical cycle life of silver-zinc, retaining over 85% capacity after 500 cycles.
ZPower Hearing Aid Battery - Exploded View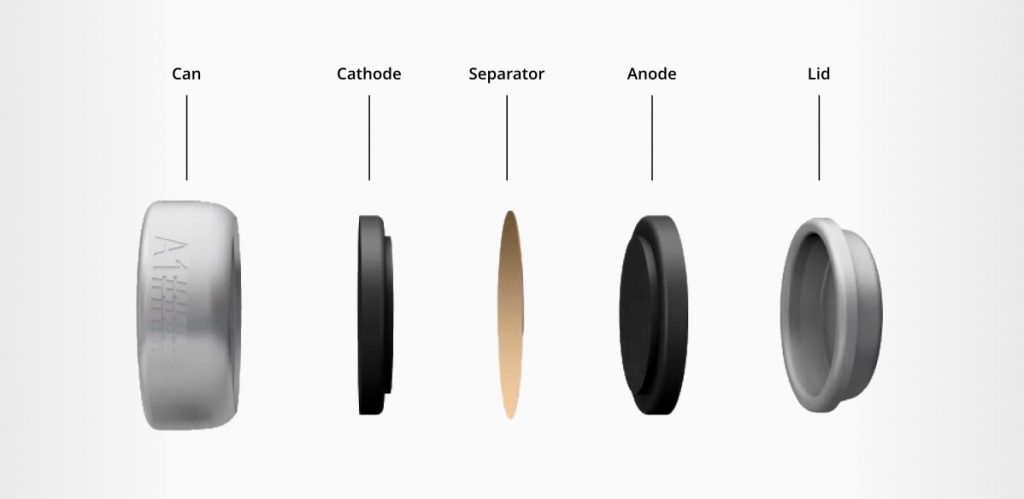 Silver-Zinc Hearing Aid Batteries Begins Where Li-Ion Leaves Off
Li-ion batteries have enabled countless innovations since the 1990s, and they continue to be a vitally important component for hundreds of products. But they have serious limitations — primarily size, energy density and safety — that impede manufacturers from making smaller, safer products.
Silver-zinc provides clear superiority for devices that require close physical contact with the user, and applications in which miniaturization is a prime consideration.
A Little Background
Design engineers are continuing to innovate in the consumer electronics and medical device markets; developing smaller, yet more powerful devices. A primary challenge the designers face is how to miniaturize a device around the large batteries previously required for such applications.
ZPower has developed the answer.
The ZPower battery rechargeable cell is the smallest, high energy density micro battery available; enabling a new generation of products by providing over 58 mWh in packages smaller than the collar button of your dress shirt.
With hundreds of cycles, and no shipping or transportation restrictions, silver–zinc microbatteries are the safest way to power the next generation of bearable and wearable products.
ZPower has developed proprietary, silver-zinc microbatteries that offer higher energy density values than any other battery within the same volume range (< 250 mm3).
Today, ZPower hearing aid batteries have an energy density of approximately 340 watthours per liter (Wh/L) at a size of 156 mm3.Their cell's energy density remains high, between 320 and 370 Wh/L, even as the battery's volume changes.
HIGHER ENERGY DENSITY Li-ion batteries maintain competitive energy densities at volumes above 625 mm3, which is four times greater than the size of the XR41 silver-zinc battery with the equivalent energy density.
But as the Li-ion cell shrinks to microbattery size, inherent constraints in the 'jellyroll' implementation of the electrodes (smaller electrode widths, fixed separator thicknesses, shrinking jelly-roll diameters, and the volume lost in the center of cell due to the winding mandrel) all limit the amount of active material that can be placed in the cell; lowering the cell's capacity.
Coupled with the significantly lower current density of the Li-ion electrodes (electrical current per unit area of electrode interface space), the Li-ion cell's performance scales down dramatically with size.
These batteries have been successfully tested over a full year of use at the cell's rated capacity.
Unlike Li-ion batteries, which lose a little capacity each cycle, the discharge capacity of the silver-zinc microbattery stays consistent throughout the first 500 cycles of the device's cycle life. This provides the end-user with a consistent runtime.
A patented charging method is a critical part of how they extended the historically short cycle life of the silver-zinc battery.
These batteries will work with most hearing aids that utilize standard zinc-air 312 hearing aid batteries, However, the charging unit is specifically for hearing aids that have been upgraded to accept silver-zinc rechargeable batteries.
Approximately 50% of major brands can be retrofitted to accept these type of batteries.
Check with your hearing aid provider for information on your specific brand and how to get the charger.
ZPower hearing aid batteries will not work with a PowerOne hearing aid battery pocket charger.
ZPower Hearing Aid Battery Data Spec. Sheet
For more information on buying ZPower hearing aid batteries, please call 1-800-416-2434, 9:00 a.m. to 9:00 p.m. Eastern Time (6:00 a.m. to 6:00 p.m. Pacific Time) USA.
Additional information
| | |
| --- | --- |
| Weight | 0.1 lbs |
| Dimensions | 1 × 2 × 3 in |
| Brand | ZPower |
Terms and Conditions of Purchase, Warranty, 45-Day Return/Refund Policy on all Products Sold By HearSource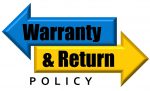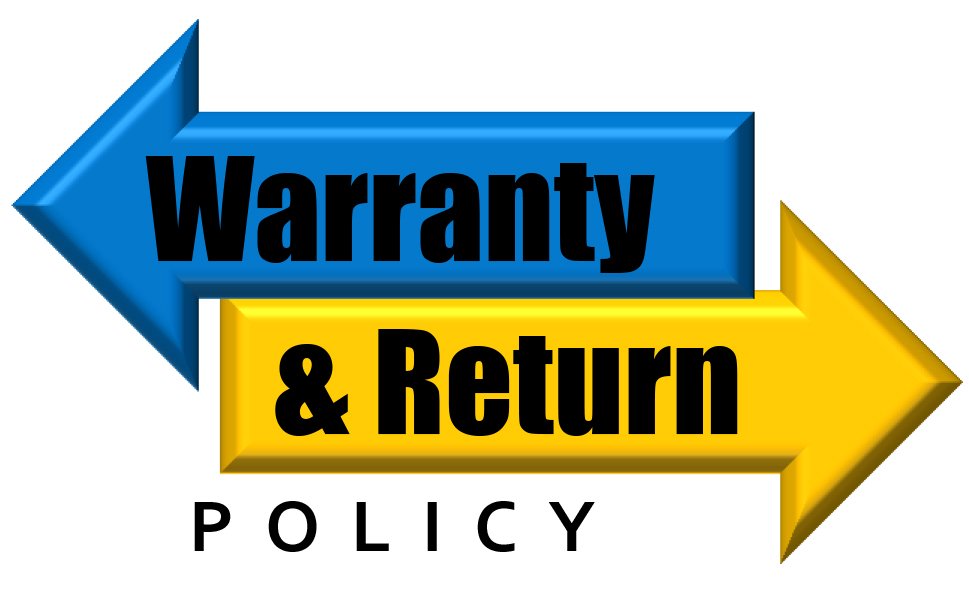 By purchasing products or services from HearSource, you do hereby agree to the following new product warranty, hearing aid repair warranty, return policy, and all other terms and conditions. 
All new merchandise or products purchased from HearSource are warranted against material or manufacturing defect by the original manufacturer for a minimum period of one year (certain hearing aid models may have warranties from the manufacturer for two or three years) from the date of shipping from our facility to your address. At our sole discretion we may repair, exchange, replace or upgrade any defective product that you have purchased from us. Additional/extended warranties are available for purchase at additional cost. Please contact HearSource for additional information concerning extended warranties. This warranty is non-transferable and applies only to the original purchaser. To obtain warranty service on any HearSource product, please include a check for processing, shipping & handling of $19.95.
Hearing Aid Repair Warranty
All hearing aids repaired by HearSource are warranted for six months from the date of shipment to you unless you have specifically requested and paid the additional $50 fee for a one year warranty. To obtain warranty service on any HearSource repair, please enclose a check for processing, shipping & handling for $19.95
Return Policy, 45-Day Money Back Policy
HearSource offers only the best brand names and the highest quality goods. We provide a 45-day return for refund policy.  If for any reason, you are not satisfied with your purchase, simply contact HearSource at 1-800-416-2434 and request a RMA authorization (Return Merchandise Authorization) number.
Return the item(s) in the original, undamaged condition (including all original materials, packaging and accessories) within 45-days of our shipping date to you of any product for refund. Returned merchandise must be received by us at our HearSource location within 45-days of our shipping date to you. If you have any questions or concerns regarding your order or our return policy, please contact us directly at 1-800-416-2434.
Call 1-800-416-2434, Monday through Friday, 9:00 a.m. to 4:30 p.m., Eastern Time Zone, USA, to obtain your required RMA authorization number. Your shipping and handling charges for products you ship or return to us are non-refundable. You may want to insure your return; as we cannot be held responsible for products damaged, lost or misdirected via shipping.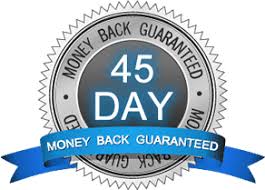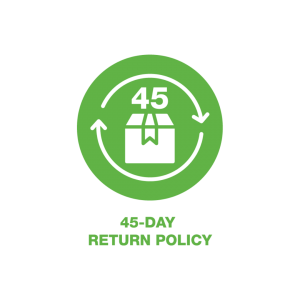 After we receive the product for return, your refund will be made to you in the manor in which you paid. For example; if you paid using a credit card, your refund will be applied to that specific credit card. If you paid by cash or check, your refund will be in the form of a check.
With your RMA clearly identified in the shipping address back to us, please ship return merchandise to:
HearSource
RMA #XXXXXX
108 E. Pat Rady Way, P.O. Box 364
Bainbridge, IN  46105
You may also return any item for exchange or replacement within 45-days of the shipment date due to material defect or damage during shipment. After 45-days, defective or damaged products will be repaired or replaced under the specific manufacturer's warranty policy.