San Antonio Saves up to $3000 on Brand Name Hearing Aids, and $100's on Hearing Aid Repairs
HearSource is the Better Hearing Store!
San Antonio Chooses HearSource, and Saves $1000's on Brand Name Hearing aids.
Living in San Antonio is expensive. That means that everything there costs more, including (and perhaps especially) hearing aids. A good pair can cost you as much as $7000, even before they charge for fittings and adjustments. HearSource can do the same fittings and adjustments, from your internet connection in the comfort of your own home…or even when you're on vacation, or a business trip. Anywhere there's an internet connection. These fittings and adjustments won't cost extra with HearSource, and our brand name hearing aids are $1000's less than your local store. What's the catch? There simply isn't one. For the life of your hearing aids, we will provide service and adjustments, free of charge. Have an older pair of hearing aids that are out of warranty, and failing, but not ready to buy new ones? Save hundreds of dollars with our in-house hearing aid repair lab. We don't send them out to someone else for repair. We ARE the "someone else" to which most local shops send their repairs!
Save up to 70% on Name Brand Hearing Aids
State of the art technology like modern hearing aids deserves a modern delivery system. You don't have to go to a storefront, wait several days for them to order hearing aids, return to the shop for fittings, and go back to the shop every time you need your hearing aids adjusted or updated. Now, you can do all of this from the comfort of your own home. We ship your hearing aids and programming tools directly to you within days of your order. We schedule a video conference with our audiology experts to fit and configure your hearing aids, and any time you need further adjustment, you just contact us for a free appointment. You can do this anywhere you have an Internet connection, not just at home. At work, at a friend's house, on vacation, literally anywhere in the world!  All of this, while still saving up to $3000 on purchase of a new set of hearing aids!
Tele-Audiology: The Future of Hearing Aid Purchasing
Tele-audiology is only the first of many healthcare systems to successfully transition to a remote care style, bringing the hearing specialist right to your home. 
Buy New Hearing Aids
We supply affordable, high quality digital & invisible hearing aids without the need for medical referral.
All Repairs Come with 6/12 Month Guarantee
If you have hearing aids already, you konw how expensive they are. And you probably have priced repairs in your local area already, or you wouldn't be looking for alternatives right now.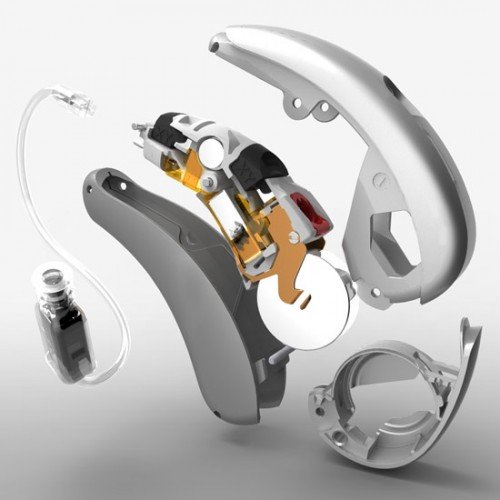 Well, know this, San Antonio: HearSource is here for you. Our repair work is guaranteed for 6 months minimum (you can buy an extended 12-month guarantee). Our prices start at $199 per hearing aid. Our prices do NOT go up if you need extra parts. If you need the fastest possible turnaround, we offer a premium rush service for a small extra fee. If we get something wrong, just return them to us and we'll repair them and ship them back as quickly as possible. And in the rare occurrence that we cannot repair your hearing aids, they'll be returned to you, along with any fees you've already paid. Pay nothing to at least see if your hearing aids can be fixed? At a fraction of the cost of new hearing aids, this should be a no-brainer solution. 
You guys are the best. I'll make sure anybody I meet who has hearing aids knows about your great service.
Thanks for the great job you did repairing my ...hearing aid. It didn't work this good when it was new.
I would like to thank you for your outstanding help in making my hearing aids work better than ever.
Repair My Hearing Aids
HearSource can repair almost any hearing aid, regardless of its make, style, type or age.