Signia TeleCare Remote Hearing Aid Support Services
Virtual Appointments via Signia TeleCare
Signia TeleCare and HearSource offer you comprehensive remote hearing aid support via Signia TeleCare. Via Signia TeleCare you can schedule hearing care appointments and we can adjust your hearing aid settings remotely without you ever needing to leave the comfort and security of your own home.
With Signia TeleCare we can remotely solve issues quickly and effortlessly. TeleCare allows us to communicate with you via voice, chat, or video chat.
Signia TeleCare Is The Gold Standard In TeleHearing Health Care.
Signia TeleCare supports you from the first appointment all the way through aftercare. Discover the benefits of modern TeleCare.
Remote Hearing Aid Tuning & Adjustments
Remote hearing aid adjustments can improve your better hearing experience significantly. Signia TeleCare gives you the opportunity to request any needed sound changes, wherever you might be. We can resolve issues via chat or (video) call – we can send new sound settings updates to you that can be applied instantly to your hearing aids via your smartphone.
Signia TeleCare helps us to maintain contact with you. HearSource can continue to support you remotely as well as provide you with updates.
With Signia TeleCare we can achieve a higher level of customer satisfaction by incorporating flexible options to you that fit into your daily life. Remote tuning, CareChat (including text message, phone call or video call), and virtual follow-ups allow for more convenient communication and appointment options for you.
Signia TeleCare is an acclaimed solution that you can use without concern. It is a certified and secure system. You can be confident in that your data is safely secured.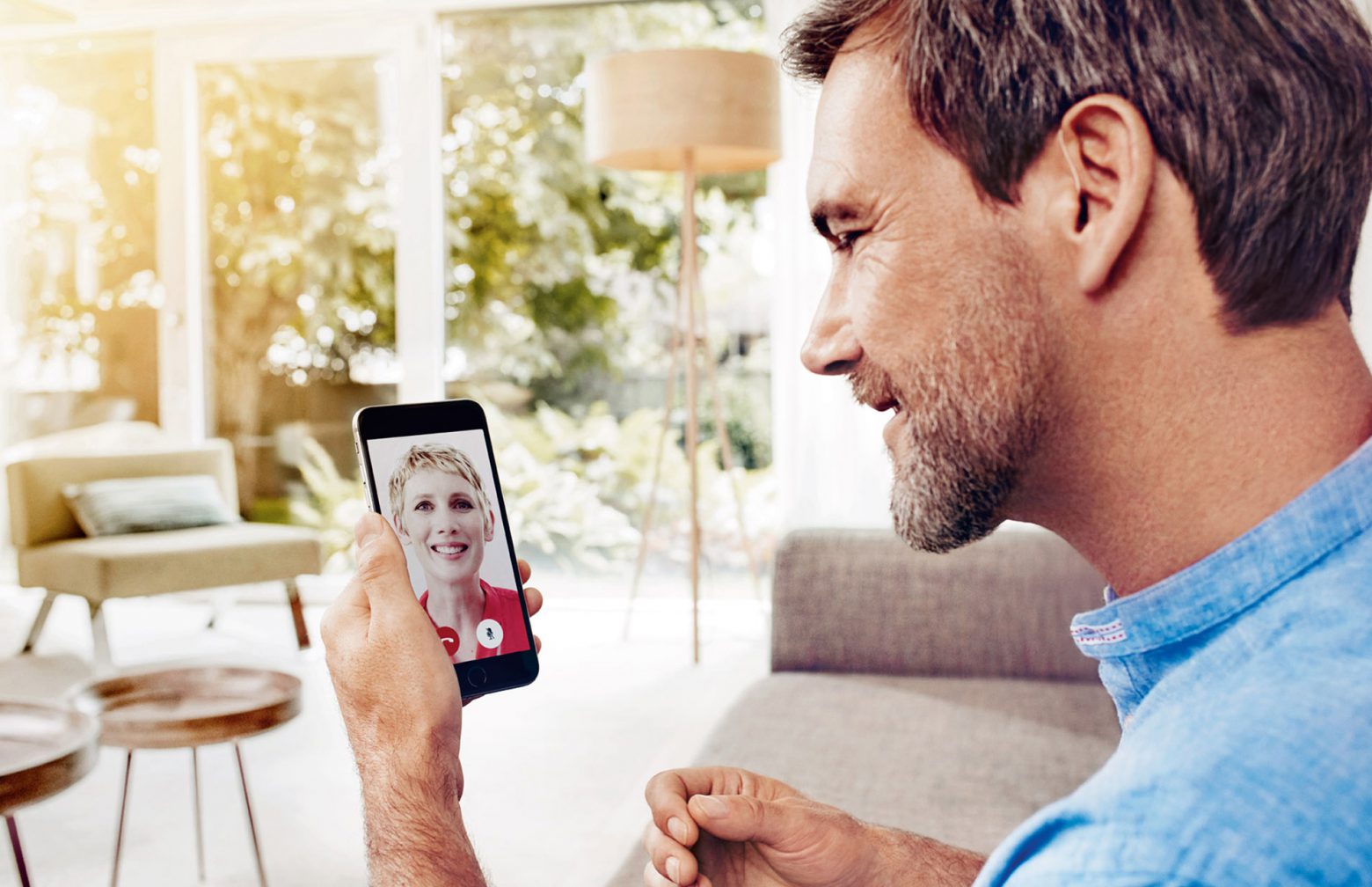 The Signia app gives you everything you need to enjoy your hearing aids to the fullest, it is tailored to your personal preferences: audio streaming, remote control and remote support. All you need is your smartphone.
Easy to use, it lets you discreetly control the volume and other hearing aid settings while streaming audio directly into your ears.
With the Signia app, you can also stay in touch with your HearSource Hearing Care Professional, receiving support when you need it.
Signia Assistant
The "Assistant" resides within in the Signia app – available for both iOS and Android smartphones.
The Assistant gives you:
Settings tailored to your personal preferences for an even clearer sound and best speech comprehension in every situation
Answers to your questions about how to handle your hearing aids so you can easily recall every detail discussed during your appointment
Highly intuitive 24/7 support whenever you need it
Confidence and control over your hearing success
Using artificial intelligence, the Assistant learns your personal preferences providing you with the best hearing experience possible, and to support you even in the most challenging hearing situations. In fact, 93% of wearers are very satisfied with their hearing aids in difficult listening situations when using the Assistant. It accompanies you where ever you go along your better hearing journey, boosting your confidence and making you more in control of your own hearing success.
Signia TeleCare has been developed to provide the TeleHealth hearing services consumers increasingly expect. Without compromising quality of care, HearSource can deliver comprehensive remote support, while offering greater convenience to our cients today, and in the future. This is especially important for high-risk clients, individuals with limited mobility and those who rely on others for transportation.
With in-person service difficult or impossible, HearSource Hearing Care Professionals have adopted modern technology quickly to support current and new clients with high-quality hearing healthcare. Signia TeleCare is a versatile tool to meet our clients' needs at any stage of their journey to better hearing. As a result, your HearSource Hearing Care Professional can fine-tune a wearer's devices or conduct the complete hearing screening and fitting process for new clients, and ensure each individual's long-term success.
How Signia TeleCare Works
Signia TeleCare gives HearSource hearing care professionals the flexibility to conduct any or all steps of a hearing aid fitting, while providing the same level of care as if they were in the office.
For clients in need of a hearing test, HearSource can support them with an online screening.
Signia TeleCare benefits the consumer in that they can reach their hearing care professional easier and obtain a more client-centered care.
This special service is a good means to stay in touch with each other as attentive partners throughout the entire hearing aid fitting process. Beyond that, Signia TeleCare can provide much needed client care for those isolated in rural areas.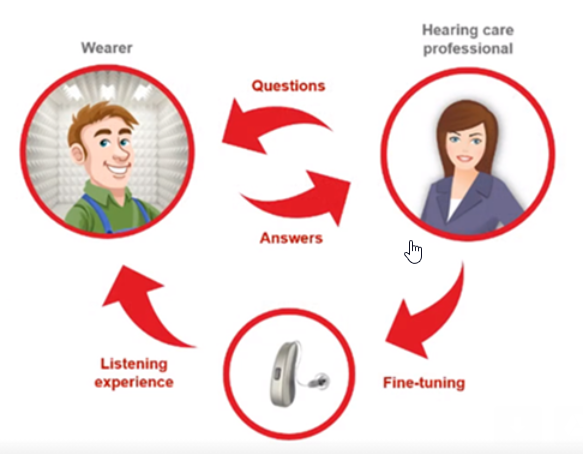 In many cases, particularly with new hearing aid users, success with hearing aids depends on the experiences during the first few weeks following the initial hearing aid fitting.  This is when important questions need to be answered, when sound settings changes may be necessary, or when a client simply needs some additional help during this acclimatization period.  In the past, the client would need to schedule repeated office visits to have the issues resolved. This back and forth was burdensome for most clients.  In some cases, clients simply "gave up" and decided against the use of hearing aids.
Fortunately today, with modern communication technologies, the majority of these issues can be handled through telemedicine (TeleHearing care).  First in the hearing aid industry to take up this idea and launch remote hearing care, the Signia TeleCare system not only reduced barriers for hearing impaired individuals living in underserved areas, or for people who are not able to drive or take public transport, it also reduces traveling and waiting time for all clients. Users appreciate the convenience of using modern communication tools to obtain prompt support whenever it fits best into their daily schedule and routine.  Handling personal issues through phone calls, eMails, texting and the Internet are now common in most all medical disciplines.
Signia TeleCare 3.0 offers complete live remote tuning so that HearSource Hearing Care Professionals can fine-tune clients' Signia hearing aids in the real-life situations for which they are intended. Initial fittings and follow-up appointments can be held online via video call—in essence, a virtual home visit. This allows HearSource Hearing Professionals to adjust the hearing aids to achieve the most natural individual sound quality in real time and at the client's convenience, to keep the necessary adjustment to amplification on track.
Specific features of Signia TeleCare 3.0 are designed to increase client acceptance, benefit and satisfaction with their new instruments
The ability to remotely monitor indicators such as wearing time, program use, and situation classification to determine when intervention might be necessary.
Ability to track the client's satisfaction for different real-world listening conditions to determine if programming changes or additional counseling is warranted.
The option to deliver at-home client care by solving issues through remote programming changes to the gain, output, frequency response, noise reduction and other algorithms.
Real-time video calls as well as text and voice CareChat capabilities enable easy and direct communication between the HearSource Hearing Professional and the client.
The benefits of Signia TeleCare seem obvious.
Many times, the long-term success in the wearing of hearing aids, depends on the wearer's experiences during the first few weeks following the initial fitting. It is during this crucial initial period that issues that easily could be fixed can become problems that lead to hearing aid rejection. Using Signia TeleCare, initial fitting issues can easily be resolved remotely. Also, a very high client satisfaction for the majority of listening experiences can be obtained. This fine tuning and counseling assistance is provided without the need for the client to make repeated return visits to any clinic, an added convenience for the client.  
For more information on Signia TeleCare, please call 1-800-416-2434, Monday thru Friday, 9:00 a.m. to 9:00 p.m. Eastern Time (6:00 a.m. to 6:00 p.m. Pacific Time) USA.
The use of the Signia or Siemens logo or name and other relevant educational materials on this website are purely for informational purposes about their products that we offer for sale.