Signia Hearing Aids and Accessories
Signia Pure X (Xperience) Hearing Aids
The revolutionary Signia X Hearing aids (Xperience) platform with the world's first acoustic-motion sensors gives hearing aids a new sense to understand the wearer's changing needs—even when moving.
Our Price:

$

1,299.00
Signia Styletto Hearing Aids
Signia Silk X Hearing Aids
Signia Hearing Aid Replacement Parts
Signia Hearing Aid Accessories
Signia Hearing Aids & Accessories - Best Prices - Best Service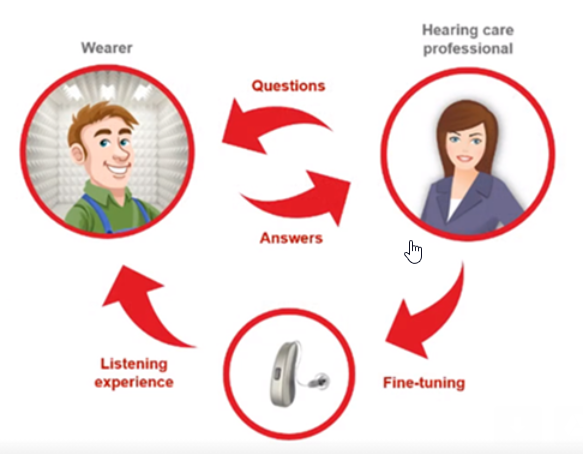 HearSource & Signia TeleCare
HearSource uses Signia's TeleCare to achieve higher customer satisfaction. We incorporate flexible working options into your lifestyle. Remote tuning, CareChat (including text message, phone call or video call), and virtual follow-ups allow for more communication and appointment options.
TeleCare allows us to get immediate and real-time feedback from you in case you are not satisfied with any sound settings.
TeleCare is an acclaimed TeleHealth solution that you can use without any personal data concern as we provide a certified and secure system. You can be fully confident that your data is safely protected.
Signia is a premium hearing aid brand. Signia was previously known as Siemens Hearing Aids. At HearSource, we offer substantial discount prices (Starting at $799) on Signia Styletto, Pure Charge& Go, and Silk hearing aids. Signia produces awesome natural sounding hearing aids and HearSource is committed dispensing them at affordable prices with the highest level of customer care and support possible. Built utilizing the X platform, these world leading hearing aids actually outperform normal hearing in challenging listening situations.
Signia has roots dating back to 1878, when Werner von Siemens developed an improved telephone receiver after noticing people with hearing loss had trouble understanding transmissions. From this foundation, Signia has built a legacy in the spirit of entrepreneurship, courage, empathy, and the desire to help others.
Their adventurous and innovative employees have helped millions of people live better lives. Signia's dedication to helping improve the lives of those with hearing loss has been a tradition for over 130 years.
Signia produces hearing aids that are capable of providing 25% better speech understanding in noise than individuals with normal hearing. It all works through subtle and sophisticated amplification adaptable to a wide range of listening environments including restaurants, parties, and sporting events. You can trust the Signia name to address your hearing loss.
About Signia X (Xperience) Hearing Aids
Every move makes a difference
Most of our daily activities involve motion, and we carry our conversations with us as we go.
Conventional hearing aids assume that the wearer is stationary and can only choose between hearing what is directly in front of the wearer or hearing their general surroundings. Signia Xperience is the first hearing aid platform that doesn't make that compromise.
With its revolutionary YourSound technology, Signia Xperience delivers superior sound processing driven by our unique acoustic-motion sensors. It measures more aspects of sound than ever before – and, for the first time, detects when the wearer is in motion to deliver the most natural and personalized sound in every situation.
The 
Signia X Hearing Aids platform
 has proven to reduce listening effort. Independent studies have identified three primary features that improves listening effort: OVP (Own Voice Processing), SpeechMaster, EchoShield, and HD Music. HearSource.com offers Signia X in a number of styles: Pure 
Charge&Go 
(rechargeable receiver-in-canal style)
, Styletto (slim receiver-in-canal style, also rechargeable), and Silk (nearly invisible in-the-canal style). Signia hearing aids are designed to deliver for a wide range of lifestyles, hearing losses, and budgets. Signia Nx platform hearing aids are available from HearSource in five technology levels: 1X, 2X, 3X, 5X, and 7X.
Signia Styletto is an innovative hearing aid with a slim modern design. Styletto is rechargeable and comes with a portable charging case for on-the-go convenience.
Signia Pure Charge&Go is a traditionally styled rechargeable hearing aid, using lithium-ion battery technology. Pure Charge&Go provides 24 hours of hearing per overnight charge.
Signia Silk X is a ready-to-wear solution that utilizes Click Sleeves: silicon sleeves available in three different sizes that "click" onto the completely-in-canal hearing aids. Silk is a comfortable and efficient solution that provides wearers instant access to clearer hearing.
The Signia X hearing aids platform addressed two long-standing challenges with traditional hearing aids: First, hearing your own voice, and second, fine-tuning the hearing aids. Signia Nx solved the "own-voice" issue with their "Own Voice Processing" (OVP) technology. OVP scans for your own voice independent of the sound environment you are in and adjusts to make your own voice sound more natural to you.
A recent study found that the Signia X improved the acceptance of the wearer's own voice by over 75%. In addition to delivering the exceptional hearing features of Signia's previous hearing aids, Signia's X's own-voice solution improves overall hearing and speech recognition. With Ultra HD e2e (Ear-To-Ear), X provides improved binaural hearing, by continuously boosting speech intelligibility and by providing a natural, effortless speech understanding in any environment.
Other advanced Signia X features include feedback cancellation and a sound classification system that uses acoustic, motion, and voice detection technologies to ensure natural hearing. HearSource offers Signia X wearers a revolutionary remote hearing support, kind of like a "virtual house call". HearSource uses Signia's TeleCare smartphone app. The TeleCare app allows your HearSource hearing professional to fine-tune your better hearing experience live in real time.
Why Signia?
Modern environments are more complex than ever. Busy lifestyles combined with mobile and digital devices now allows for hearing aids that can literally "go with the flow". That's where Signia hearing aids and accessories deliver exceptional better hearing solutions. Signia Hearing Aids include Bluetooth technology allowing for direct connection and control from smartphones or other devices.
Signia hearing aids come in extremely small and discreet styles, they can be worn and no one will notice them. Rechargeable hearing aid models are also available. Some Signia hearing aids include tinnitus reducing technologies, this is where technology really can really help those that need it really enjoy life more.
Rechargeable Hearing Aids: Eliminates the need for changing small batteries weekly. Rechargeable hearing aids are placed in a charger each night and are ready to go in the morning. Signia charging units also act as a hearing aid dryer to eliminate moisture and humidity to prolong the life of hearing aids. 
TwinPhone Technology: One of Signia's exclusive features. When a phone is held up to either ear, the caller's voice will stream into both ears (hearings aids) simultaneously, giving you twice the input, understanding and clarity. For example, if you hold the phone to your right ear, you would hear the phone call in your left ear also. Link more information on Signia TwinPhone technology.
HD Music: Any musician or music lover can tell you that experiencing live music is vastly different than listening to recorded music. Signia hearing aids take this into account and have specific settings for varying musical environments. So whether you're watching a live show, playing an instrument yourself, or listening to recorded music, you'll have a great listening experience.
Your HearSource Personal Hearing Consultant can answer any questions that you may have about Signia hearing aids and accessories.
Call us at 1-800-416-2434, Monday thru Friday, 9:00 a.m. to 9:00 p.m. Eastern Time (6:00 a.m. -6:00 p.m. Pacific) USA.
Signia Styletto Hearing aids
The Signia Styletto is an ultra-slim RIC (receiver in canal) hearing aid that combines the best of modern hearing aid design using the Nx platform. It also comes with a portable hearing aid charging case, making the Styletto hearing aids not only stylish, but convenient.
Signia Pure Charge&Go Hearing Aids
Signia has named one of their newest hearing aid lines, Signia "Charge & Go". Signia identifies their Charge & Go hearing aids as their "Ultimate RIC" because it is a RIC (Receiver-In-Canal) hearing aid that is both Bluetooth compatible and rechargeable. The Signia Charge & Go hearing aids are HearSource and Signia TeleCare compatible. TeleCare allows a HearSource hearing professional to support, program, and adjust the sound settings remotely.
Signia Pure 312 & 13 Hearing Aids
As Signia's full featured hearing aids, Pure 312 & 13 X hearing aids provides the "Your-Own-Voice" technology as well as an excellent natural environmental experience. Equipped with Ultra HD e2e and Bluetooth connectivity, empowering wearers to control their listening experience via the Signia myControl app and stream sounds directly to their ears. Notch Therapy provides relief for wearers who suffer from tinnitus.
For more information on any of the Signia hearing aids, please call, 1-800-416-2434, Monday thru Friday, 9:00 a.m. to 9:00 p.m. Eastern Time (6:00 a.m. to 6:00 p.m. Pacific Time) USA.
The use of the Signia or Siemens logo or name and other relevant educational materials on this website are purely for informational purposes about their products we offer for sale.