Widex, A History of Innovation
Widex is one of the largest and most well-respected hearing technology developers and hearing aid manufacturers in the world. Founded in 1956 in Denmark, Widex began as a small family-owned business by the Tøpholm and Westermann families and today is still owned by relatives of the original founders. Widex hearing aids are sold in over 100 countries and currently employ nearly 4,000 people worldwide.
Widex's home office is in Denmark and epitomizes their philosophy of excellence and foresight. The building is extremely environmentally friendly, combining renewable energy and recovery technologies. The building uses groundwater for heating and cooling and is CO2 neutral to the environment. Widex espouses certain core values that drive their decisions and inspire their research.

Widex puts customers first, both hearing care professionals and users.

Widex hearing aid designers and engineers are innovators, developing new ways to help people hear better. 

 Widex manufacturers quality products that are both durable and reliable.

Widex hearing aids are known for their overall superior sound quality.
In 1995, Widex introduced the first commercially available 100% digital "In-The-Ear" hearing aid to the world. In 2012, Widex received the European Inventor Award for advancing hearing aid technology. In 2018, Widex was the first to offer a hearing aid with artificial intelligence and machine learning.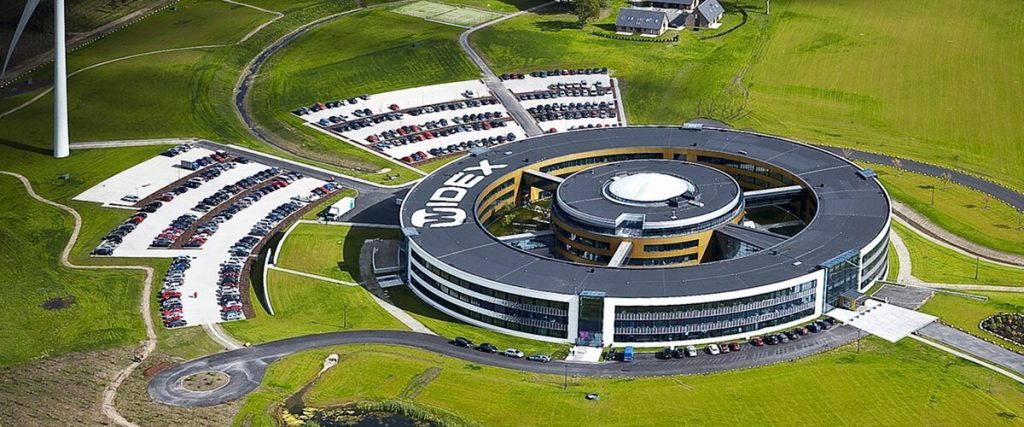 In 2012, Widex received the European Inventor Award for advancing hearing aid technology.
The Widex Family of Hearing Aids
Hearing Aids That Work!
Currently, there are four different lines of hearing aids offered by Widex in the United States and Canada; Evoke, Beyond, Unique, and Dream. Widex manufacturers all styles and types of digital hearing aid: Receiver-In-Canal (RIC's), Behind-The-Ear (BTE's), In-The-Ear (ITE's), In-The-Canal (ITC's), to the smallest Completely-In-Canal (CIC's). All hearing aid power output levels are available including standard, medium, power, and high power to accommodate all types of (mild, moderate, severe and profound) hearing loss. Widex hearing aid technology automatically adapts to each sound landscape that the wearer may find themselves in. Widex hearing aids monitor the environment around the wearer and automatically adjusts their sound settings to enhance the hearing of speech in that specific environment.
Widex Evoke Hearing Aid Family
The hearing aid that evolves in real time to keep getting smarter.
The Widex Evoke hearing aid provides for Interactive options that help you model your own hearing experience, putting you in control if you want to be. Or EVOKE can automatically make sound adjustments for you that are suited to your needs and environment. Evoke allows for an app to be downloaded to your smart cell phone to adjust volume, directionality (blocking out extraneous background noise), or set up your own personalized environmental programs and more.
YOU HELP EVOKE GET SMARTER
Widex SoundSense Technology means that every time you use EVOKE, it evolves – just as you would expect a smart hearing aid to do. As you and other Evoke users personalize your listening experiences using SoundSense, EVOKE learns from that group input. Widex then uses that anonymous aggregate data to generate better hearing algorithms for all. As those new improved algorithms are developed by Widex, they are downloaded to your hearing aids. The excellent hearing aids you wear today evolve into even better hearing aids tomorrow!
YOUR LIFE, YOUR UNIQUE HEARING NEEDS
EVOKE can tell the difference between country, classical and pop music, business meetings or parties, indoors or out – mapping your individual sound environment and adjusting accordingly. The sound around you is ever changing. EVOKE hearing aids, with their Fluid Sound Analyzer, will automatically read and adjust their sound settings to meet the needs for better hearing in your current environment.
YOU DECIDE WHAT YOU WANT TO HEAR
When you're in an environment with background noise, your hearing aids need to filter out sounds that can interfere with hearing speech. In quiet situations, you need to hear all the slight details. EVOKE's Fluid Sound Controller automatically establishes the optimal hearing prescription for different sound environments. EVOKE quickly adapts to the changes in your life.
THIS HEARING AID NEVER FORGETS
EVOKE Hearing Aids never forget. Evoke's SoundSense Adapt technology remembers all changes you've made and intelligently applies them to similar sounding environments.
LIFELIKE SOUND COMES NATURALLY
In the world of better hearing, every sound has its own "recipe." The more a hearing aid can accurately recreate a sound, the easier it is to hear. EVOKE has the most natural sound you can get from a hearing aid.
Widex Beyond Hearing Aid Family
MADE FOR IPHONE HEARING AIDS, MADE FOR YOU
Customize the BEYOND sound settings using your own smartphone.
You can personalize Beyond's sound settings and set your own listening preferences using your iPhone or Android smartphone. You can even create and save sound templates for specific situations such as an office, restaurant, bowling alley, or church.
EASY ADJUSTMENTS
With the swipe of your finger, you can easily adjust the volume on each hearing aid separately or together. You can also choose between increased clarity of speech or comfort. Beyond also allows you to select the directionality of microphones, reducing background noise interference.
THE PERSONALIZED APP IS INTUITIVE TO USE
Update your hearing aids at the touch of a button

Create personal programs with your own pictures

Find your hearing aids anytime and anywhere
MORE CONNECTED THAN OTHER HEARING AIDS
The downloadable smartphone App allowing for full streaming functionality and control over your hearing environment, you are easily connected anywhere and anytime.
Direct streaming is not currently supported on all Android devices. To see a full list of compatible devices click here
ENJOY MUSIC AND MOVIES LONGER
The Widex Beyond streaming feature allows you to listen to music from your iPhone in stereo directly through your hearing aids. Beyond also supports wireless streaming in stereo directly from your TV via the TV-DEX assistive device. You can stream sound for hours on end due to having the lowest power consumption of any hearing aid.
CLEAR SOUND IN ALL LISTENING SITUATIONS
Hear all the beautiful details.
Beyond hearing aids give you incredible sound quality. It optimizes speech and sound based on your environment – you don't have to adjust the hearing aids, Beyond adjusts them automatically for you.
BETTER UNDERSTANDING IN WIND
Widex's "SMARTWIND" Manager, Beyond has the best wind noise reduction system in the industry. SMARTWIND Manager significantly reduces annoying wind noise, while improving speech understanding
STAY CONNECTED WITH WIDEX "DEX" COMMUNICATION SOLUTIONS
Beyond doesn't just keep you connected to your iPhone, but also to telecoils and to phones, televisions and more with a full range of DEX communication solutions.
Widex hearing aids consume less battery power than similar hearing aids from other manufacturers – so you can stream and hear longer. Beyond is designed specifically for the demands of connectivity and lower battery consumption. You will change hearing aid batteries less often.
The technologies in Beyond are second to none. It performs better than hearing aids from other major hearing aid manufacturers in noisy or difficult listening situations.*
*Compared to their own hearing aids in difficult listening situations.
Widex Unique Hearing Aid Family
Fully Automatic with Sound Class Technology

iPhone Compatible with Accessory (Com-Dex)

Android SmartPhone Compatible with Accessory (Com-Dex)

Bluetooth Streaming with (Com-Dex)
What makes the Widex UNIQUE better than other similar hearing aids?
The Unique has a wider sound picture allowing you to hear both soft and loud sounds comfortably. The Unique is also available with the best wind noise reduction system on the market. A great hearing selection for those with an active lifestyle. The Unique automatically detects your listening environment and adjusts itself to make sure you hearing the best you can.