Widex Remote Care Hearing Aid Support For HearSource Customers
TeleHealth Hearing Care: Remote Hearing Aid Programming & Sound Adjustments in Real Time.
With HearSource's TeleHealth Hearing Care Services utilizing "Widex Remote Care," you can conveniently receive remote programming, sound adjustments and support for your Widex hearing aids from the comfort of your home, office or anywhere with an internet or smartphone connection.
Benefits include:
1) Save time in your busy schedule. We simply call you at the scheduled time.
2) No need to travel or fight traffic to get the hearing care you need.
3) Stay conveniently connected with live audio and video connection.
4) No compromise on professional care.
We have full access to hearing aid fitting, programming, sound adjustments, and hearing aid issue diagnosis functions. All you need is an internet connect connected P.C. or Smartphone and your HearSource Widex Remote Care Technician will take care of the rest.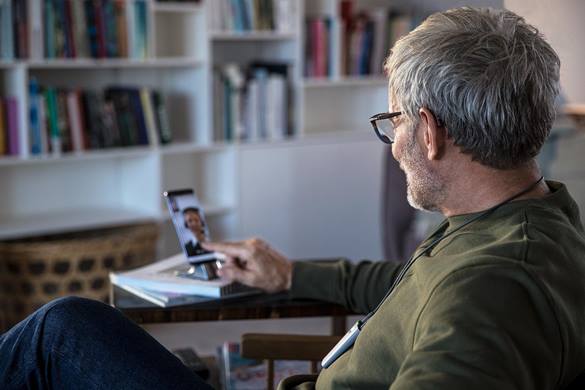 Our Widex Remote Care system allows HearSource Hearing Care Professionals access to all of the necessary fitting tools to remotely fit, program, adjust, fine-tune and diagnose, ALL of the Widex hearing aids sold by us. The HearSource Widex Remote Care Support System is designed to offer all the necessary flexibility to accommodate the professional needs of our HearSource Programming Technicians and you, the hearing aid user (We have all the tools needed to do a great job remotely programming your Widex hearing aids).
The HearSource Widex Remote Care system simply consists of your internet connected P.C. or Smartphone (with the downloaded Widex Remote Care App to your Smartphone), Remote Link, and our Remote Programming Technicians.
The primary benefit of using our Widex Remote Care hearing solution is our ability to solve and address any issues of fine-tuning the sound settings of your Widex hearing aids in the wearer's actual living environment, as opposed to estimates from any local hearing aid clinic. The closer access we have to a wearer's real life environment, removes much of the hearing aid programming guesswork and provides real-life live environmental sound feedback from our clientele.
With HearSource's (TeleHealth) Widex Remote Care services, it doesn't matter where you are. We can provide you professional services and achieve an optimal hearing aid fitting, anywhere in the world (internet or smartphone signal required).
HearSource will establish an audio/video connection to your internet connected P.C. or Smartphone and can provide all the necessary hearing aid fitting, programming, sound adjustments and hearing aid issues diagnosis necessary, just like you were in any hearing aid office.
HearSource's Widex Remote Assist Video
Widex Remote Care Support Procedures (TeleHealth Hearing Care)
Call HearSource at 1-800-416-2434 to schedule your Widex Remote Care/Assist Session. The HearSource Customer Support Rep's will schedule a specific time and date for your appointment [usually withing one (1) business day].
2. At the scheduled time, your HearSource Remote Assist Technician will call you.
3. Please be in a quiet space within your personal environment to receive the Remote Assist Call/Session (Quiet ALL Kids, dogs, TV's, radio's, loud fans, phones, etc., ALL turned off and quiet).
4. You will be "Face-To-Face" with one of our HearSource Hearing Care Professionals using safe TeleHealth Hearing Care communication technology practices.
To ensure that your appointment utilizing the Widex Remote Care app is a seamless experience, here are a few tips for making your remote appointment a success.
• Make sure your -1. smartphone and -2. Widex Remote Link are fully charged and that your -3. hearing aids have fresh batteries. Have all three components with you at the time of your appointment.
• Find a quiet spot to have the conversation.
• Make sure your smartphone or computer is connected to a reliable internet connection.
• We will call you at the scheduled time.
• Keep your smartphone or computer camera pointed at your face (hold your smartphone as still as possible, so that we can see you).
• Stay focused during the appointment; do not take other calls or try to multitask.
• Keep your Widex REMOTE LINK on your neck and unblocked throughout the appointment.reliable
Convenient Widex Remote Care FOLLOW-UP
With successful Widex Remote Care follow-ups and support services from HearSource Live & On-The-Spot, you are likely to feel more confident and happier with your Widex hearing aids.
HearSource Widex Remote Care saves you time from having to travel to a hearing aid clinic (which is handy if you have a bit of a drive or lead a busy life).
WIDEX REMOTE CARE APP COMPATIBILITY
Apple Devices
iPhone XS Max
iPhone XS
iPhone XR
iPhone X
iPhone 8 Plus
iPhone 8
iPhone SE
iPhone 11
iPhone 11 Pro
iPhone 11 Pro Max


iPad mini 4
iPad mini 5
iPad Pro 11″
iPad Pro 12.9″ (2nd and 3rd generation)
iPad Pro 10.5″
iPad Air 3
Android Devices
Samsung Galaxy S10+
Samsung Galaxy S10
Samsung Galaxy S9+
Samsung Galaxy S9
Samsung Galaxy S8+
Samsung Galaxy S8
Samsung Galaxy S7
Samsung Galaxy S7 Edge
Samsung Galaxy Note 8
Google Pixel 3 XL
Google Pixel 3
Google Pixel 2 XL
Google Pixel 2
Google Pixel XL
Google Pixel
Sony Xperia XZ Premium
Sony Xperia XZ
HTC 10
LG G6
Moto G5
OnePlus 6T
Moto Z Play
Compatible Systems Requirement
Apple: iOS 12.x and 13.x
Android: OS version 6.01 or later
Computer
Microsoft Windows P.C. or Laptop
For more information about our Widex Remote Care/Assist (TeleHealth Hearing Care) or other services, please call 1-800-416-2434, Monday thru Friday, 9:00 a.m. to 9:00 p.m. Eastern Time (6:00 a.m. to 6:00 p.m. Pacific Time) USA.