ReSound Remote Assist Hearing Aid Support For HearSource Customers
TeleHealth Hearing Care: Remote Virtual Hearing Aid Sound Adjustments in Real Time.
Need Help with a Hearing Aid Adjustment?
To Schedule a live ReSound Remote Assist appointment.
Please Call 1-800-416-2434
HearSource TeleHealth Hearing Care Services supports you every step of the way with ReSound Assist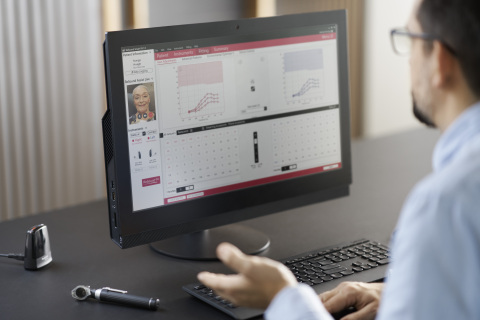 Remote fine-tuning so you can request adjustments to your hearing aids anytime
Cutting-edge TeleHealth technology allows for the broadest range of at-home hearing care services for those with hearing loss. 
These new solutions allow people to take a hearing test at home, buy and receive hearing aids and have them adjusted, without ever having to enter any clinic.
Virtual care accessed through the ReSound Smart 3D app, ReSound Assist gives you two convenient ways to connect with your HearSource hearing care professional:
Remote fine-tuning requests
Live assistance video appointments
You'll enjoy continuous support and all the guidance you need most conveniently and comfortably for you and your HearSource hearing care professional. It's all designed to help you get the most out of your ReSound hearing aids.
What ReSound Assist Users Think
Those who have already tried ReSound Assist appreciate the extra care they receive, the ease of use, and the convenience it offers.
of ReSound Assist users say
"It's easy to request assistance from the app"
of ReSound Assist users say
"It's easy to apply new settings from the app"
of ReSound Assist users say
"The new settings improved my hearing experience"
LIVE ASSISTANCE
Face-to-Face video appointments
You can meet with your HearSource hearing care professional "Face to Face" via video chat. ReSound Assist Live Assistance lets you bypass clinic visits with convenient, real-time video appointments. That means you can enjoy personalized, flexible care from the comfort of your own home. It's as easy as answering a video call on your phone.
LIVE ASSISTANCE
Here's how it works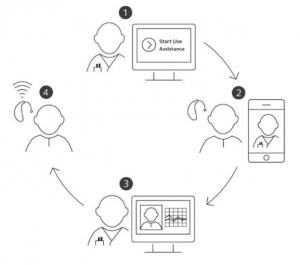 ReSound Remote Assist Procedures (TeleHealth Hearing Care)
Book a virtual video appointment by calling HearSource at 1-800-416-2434. At the appointment time, we will call you.
Answer the video call using the ReSound Smart 3D app on your smartphone
Our hearing care professional will remotely connect to your hearing aids through your smartphone and provide you with live adjustments, if needed.
You evaluate the new sound settings live, with us, during the appointment, just like you were in our office.
5. Please be in a quiet space within your personal environment to receive the ReSound Remote Assist Call/Session (Quiet ALL Kids, dogs, TV's, radio's, loud fans, phones, etc., ALL turned off and quiet).
6. You will be "Face-To-Face" with one of our HearSource Hearing Care Professionals using safe TeleHealth Hearing Care communication technology practices.
REMOTE FINE-TUNING
Get updated settings at your fingertips
Sometimes it can be hard to describe a hearing experience from your everyday life while in a hearing aid clinic. When you contact your HearSource hearing care professional from your ReSound Smart 3D App, we get all the information we need to help you optimize your hearing aid settings remotely.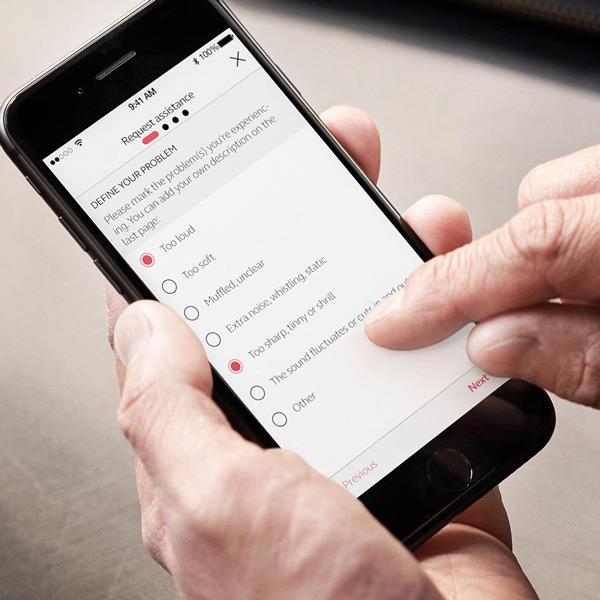 ReSound fine-tuning
Real-time feedback from you to us
ReSound Assist remote fine-tuning requests enable you to identify the issue you are experiencing when difficulty occurs in a particular environment.
With every remote fine-tuning request, you provide:
Detailed diagnostic questionnaire
Optional message with additional information
Automatic record of your hearing aid settings
Rate My Sound feature to provide satisfaction rating of fine-tuning
COVID-19 & TeleHealth Hearing Care
ReSound recognizes that COVID-19 may seriously affect people who use hearing aids due to stricter social distancing measures, ultimately affecting many people's well being and mental health.
TeleHealth hearing services can make an important difference in helping people stay connected with loved ones and informed on rapidly changing events while staying at home. People do not have to sacrifice their hearing and can get the help they need to hear better.
With the launch of ReSound Assist Live, people can now have new hearing aids adjusted remotely by their HearSource hearing care professional via at-home video consultations without physically going to a local clinic. 
Additionally, in these difficult times, HearSource hearing care professionals can provide new hearing aids for those who have recently completed a hearing test.
ReSound Assist Live, a virtual real-time video-enabled hearing care service. At a time when the elderly, more vulnerable population is advised to stay home, this innovative TeleHealth hearing care solution enables people, from the comfort and safety of their home, to connect with their HearSource hearing care professional for new hearing aids, fittings, programming, adjustments and other care remotely.
To ensure that your appointment utilizing the ReSound Remote Assist app is a seamless experience, here are a few tips for making your remote appointment a success.
• Make sure your smartphone and hearing aids have fresh batteries. Have both components with you at the time of your appointment.
• Find a quiet spot to have the conversation.
• Make sure your phone is connected to a strong internet connection.
• We will call you at the scheduled time.
• Keep your smartphone or computer camera pointed at your face (hold your smartphone as still as possible so that we can see you).
• Stay focused during the appointment; do not take other calls or try to multitask.
Our ReSound Remote Assist system allows HearSource Hearing Care Professionals access to all of the necessary fitting tools to remotely fit, program, adjust, fine-tune and diagnose, ALL of the ReSound hearing aids sold by us. The HearSource ReSound Remote Assist Support System is designed to offer all the necessary flexibility to accommodate the professional needs of our HearSource Programming Technicians and the hearing aid user (We have all the tools needed to do a great job remotely programming your ReSound hearing aids).
The HearSource ReSound Remote Assist system simply consists of your internet connected P.C. or Smartphone (Downloaded ReSound Smart 3D App to your Smartphone), and our Remote Programming Technicians. 
A primary benefit of using our ReSound Remote Assist hearing solution is our ability to solve and address any issues of fine-tuning your ReSound hearing aids in the wearer's actual living environment, as opposed to estimates from any local hearing aid clinic. This closer access we have to a wearer's real life environment, removes much of the hearing aid programming guesswork and provides real-life live sound environment feedback from our clientele.
With HearSource (TeleHealth) ReSound Remote Assist, it doesn't matter where you are. We can provide you professional services and achieve an optimal hearing aid fitting, anywhere in the world (internet or smartphone signal required).
HearSource will establish an audio/video connection to your internet connected P.C. or Smartphone and can provide all the necessary hearing aid fitting, programming, sound adjustments and hearing aid issues diagnosis, just like you were in any hearing aid office.
For more information about our ReSound Remote Assist (TeleHealth Hearing Care) or other services, please call 1-800-416-2434, Monday thru Friday, 9:00 a.m. to 9:00 p.m. Eastern Time (6:00 a.m. to 6:00 p.m. Pacific Time) USA.
The use of the ReSound logo or name and other relevant educational materials on this website is purely for informational purposes about the products we offer for sale.