RAYOVAC Hearing Aid Batteries
Size 10 – Box of 80
$29.99 each
RAYOVAC®, the #1 Manufacturer of Hearing Aid Batteries, now brings you Clear Sound Technology. Raising the benchmark of product innovation and providing consistent, quality performance through the whole life of the battery. Rayovac Extra Size 10 Hearing Aid Batteries are sold in boxes of 80, and are the most compact long-lasting batteries on the market.
Description
Rayovac Extra Hearing Aid Batteries Size 10 – Box of 80
37¢ per battery
FREE Shipping
Size 10, Box of 80 batteries
Three Year Date Code – longest available
Larger Tab Design
World's Longest Lasting Hearing Aid Battery
Made in U.S.A.
RAYOVAC Extra Size 10 Hearing Aid Batteries are engineered with an advanced formula that performs in the most power-hungry hearing devices. This long-lasting formula provides consistent, high-quality performance throughout the life of the battery.
No Hearing Aid Battery Lasts Longer**
Our improved battery design and formulation deliver more power to ensure no hearing aid battery lasts longer**. With Active Core Technology, our battery lasts up to two days longer than our previous formulation+.
Long Lasting, Guaranteed!†
These batteries come with our four-year freshness guarantee so you can be confident in your purchase.
Rayovac Extra Size 10 Hearing Aid Batteries Are Made in the USA with US and Global Parts++
Rayovac has been manufacturing hearing aid batteries in Portage, WI for over 50 years. Through continuous investments and improvements, Rayovac is able to deliver new, innovative battery technology that features peak performance in today's devices.
Choosing The Right Battery For Your Hearing Aid​​
There are four different hearing aid battery sizes 10, 13, 312 and 675.
Manufacturers use an industry-standard color code to identify the battery size. Different battery sizes are used to power different types of devices. In general, the larger the battery the greater the power. You can find which type of battery your device requires by referring to your hearing device's manufacturer's manual.
Zinc air batteries use air as an active ingredient in fueling the battery. The peel off tab provides a seal that ensures freshness until the time of use. Once you peel or remove the tab off the battery, the air from outside of the battery begins to react with the zinc inside of the battery, this reaction is what charges up or powers the battery. To properly activate the battery, remove the tab and wait one to five minutes to allow air to fill and fully charge the battery, then, insert the battery into your hearing aid. Note: replacing the tab when the battery is not in use will not extend the battery life.
When the tab is removed and the battery has been aired up properly, make sure that you are not forcing the battery door closed. Check that the battery is inserted correctly before closing the hearing aid battery door.
Tips and Tricks
Leave new batteries sealed in their original packages
Do not remove the tab on your zinc air battery until you are ready to use it
Store batteries at room temperature
A fresh battery has more power than an aged battery. Therefore, review expiration dates on the back of battery packages prior to purchase
Store and discard batteries in places that cannot be reached by infants or children
Things That Affect Hearing Aid Battery Life
Hearing aid batteries typically have a long shelf life (up to three to four years) if stored properly. Hearing aid batteries themselves are sealed by use of a sticker, which blocks oxygen from entering the battery and reacting with the zink inside. When the sticker is removed, oxygen enters the battery through small holes and reacts with he zinc, the battery then becomes "active". After removing the sticker, waiting one (1) to five (5) minutes (allowing the hearing aid battery to fully charge up) prior to inserting the hearing aid battery into the hearing aid will provide a longer battery life.
Hearing Loss – The degree of a person's hearing loss will also affect the life of a hearing aid battery.  As the severity of hearing loss increases, the hearing aid is required to provide more amplification. This increases the amount of current that the hearing aid requires, which reduces battery life.
Hearing Aid Use – Hearing aids have different amounts of battery drain and can vary from manufacturer to manufacturer. Different hearing aid technology platforms and features can also affect hearing aid battery life. Wireless streaming will also cause a higher drain on a battery and shorten the battery lifespan.
Extreme Heat or Cold – Extreme cold temperatures will result in lower battery voltage. Extreme heat accelerates the chemical reaction in the battery itself. Both will reduce the lifespan of a hearing aid battery.
Storage – The ideal place to store hearing aid batteries is in a room temperature, dry location. Storage in the bathroom, refrigerator, and car are not recommended. Hearing aid batteries should be kept in their original packaging or in a "battery caddy".
Contact with metal objects like coins or keys can shorten or reduce battery lifespan.
Do not leave batteries within reach of children or pets! Hearing aid batteries can cause serious injury if ingested.
If ingested please contact the National Battery Ingestion Hotline immediately at 1-800-222-1222.
Disposal – All hearing aids batteries sold today are mercury free, meaning that they are environmentally safe and may be disposed of in regular the garbage. Do not burn.
How To Change A Rayovac Extra Size 10 Hearing Aid Battery Video
About Rayovac Extra Size 10 Hearing Aid Batteries
Why Rayovac?
Rayovac has spent over 110 years thinking about batteries so you can think about them less. That's why when you purchase RAYOVAC hearing aid batteries, you're getting a battery that's backed by our three key promises:
Engineering powerful performance is what we're passionate about. That's why RAYOVAC is the battery that equals or outlasts the performance of any other battery.
110 years of battery perfecting experience and two production floor reliability tests ensure every battery we sell is optimized for your use.
A Fair Price – We know that 40+% of our customers are parents. That's why RAYOVAC delivers powerful performance at a fair price.
With production facilities and offices scattered throughout America's Midwest, we're proud to provide over 850 American jobs through the production of RAYOVAC Batteries
When you find American made products without the sticker shock, that's something to wave your flag and tell your friends about.
Rayovac Extra Size 10 Hearing Aid Battery Warranty
Hearing Aid Battery Money Back GuaranteeNot completely satisfied in the performance of our alkaline or hearing aid batteries? You'll get your money back.* Call us at 1-800-891-6091 for further information on returning the required material, or send us (postage prepaid) the used batteries along with the original packaging and receipt to: Rayovac Power Challenge:
P.O. Box 620992
Middleton, WI 53562-0992

Include a 3″ x 5″ card with your name, address, the reason for returning, and your signature.*

*Limit 1 per household. Refund up to $15. Please allow 6-8 weeks for processing. Only street addresses will be accepted- Sorry, we cannot mail to Post Office Boxes.
For more information or to order Rayovac Hearing Aid Batteries, Size 10, please call 1-800-416-2434, Monday thru Friday, 9:00 a.m. to 9:00 p.m. Eastern Time (6:00 a.m. to 6:00 p.m. Pacific Time) USA.
Additional information
| | |
| --- | --- |
| Weight | 1 lbs |
| Brand | RAYOVAC |
Terms and Conditions of Purchase, Warranty, 45-Day Return/Refund Policy on all Products Sold By HearSource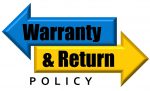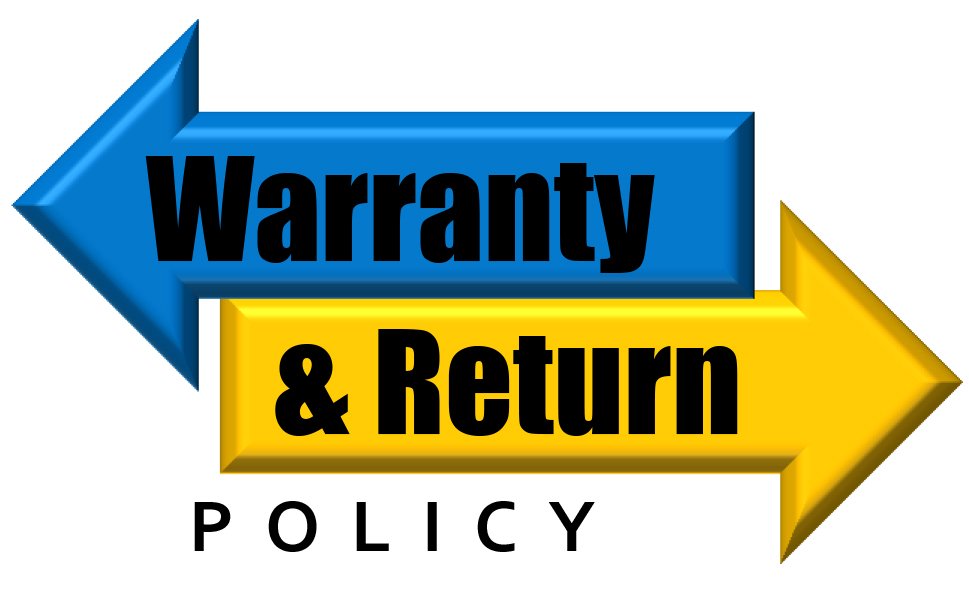 By purchasing products or services from HearSource, you do hereby agree to the following new product warranty, hearing aid repair warranty, return policy, and all other terms and conditions. 
All new merchandise or products purchased from HearSource are warranted against material or manufacturing defect by the original manufacturer for a minimum period of one year (certain hearing aid models may have warranties from the manufacturer for two or three years) from the date of shipping from our facility to your address. At our sole discretion we may repair, exchange, replace or upgrade any defective product that you have purchased from us. Additional/extended warranties are available for purchase at additional cost. Please contact HearSource for additional information concerning extended warranties. This warranty is non-transferable and applies only to the original purchaser. To obtain warranty service on any HearSource product, please include a check for processing, shipping & handling of $19.95.
Hearing Aid Repair Warranty
All hearing aids repaired by HearSource are warranted for six months from the date of shipment to you unless you have specifically requested and paid the additional $50 fee for a one year warranty. To obtain warranty service on any HearSource repair, please enclose a check for processing, shipping & handling for $19.95
Return Policy, 45-Day Money Back Policy
HearSource offers only the best brand names and the highest quality goods. We provide a 45-day return for refund policy.  If for any reason, you are not satisfied with your purchase, simply contact HearSource at 1-800-416-2434 and request a RMA authorization (Return Merchandise Authorization) number.
Return the item(s) in the original, undamaged condition (including all original materials, packaging and accessories) within 45-days of our shipping date to you of any product for refund. Returned merchandise must be received by us at our HearSource location within 45-days of our shipping date to you. If you have any questions or concerns regarding your order or our return policy, please contact us directly at 1-800-416-2434.
Call 1-800-416-2434, Monday through Friday, 9:00 a.m. to 4:30 p.m., Eastern Time Zone, USA, to obtain your required RMA authorization number. Your shipping and handling charges for products you ship or return to us are non-refundable. You may want to insure your return; as we cannot be held responsible for products damaged, lost or misdirected via shipping.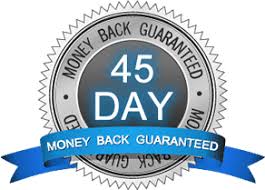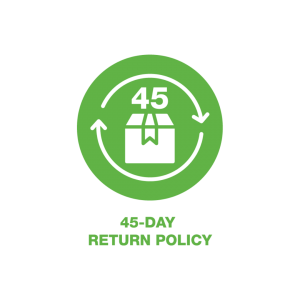 After we receive the product for return, your refund will be made to you in the manor in which you paid. For example; if you paid using a credit card, your refund will be applied to that specific credit card. If you paid by cash or check, your refund will be in the form of a check.
With your RMA clearly identified in the shipping address back to us, please ship return merchandise to:
HearSource
RMA #XXXXXX
108 E. Pat Rady Way, P.O. Box 364
Bainbridge, IN  46105
You may also return any item for exchange or replacement within 45-days of the shipment date due to material defect or damage during shipment. After 45-days, defective or damaged products will be repaired or replaced under the specific manufacturer's warranty policy.