Signia miniPocket Hearing Aid Remote Control
$147.00
Signia miniPocket Hearing Aid Remote Controller
Small, discreet, convenient remote control of hearing aids
No need for a Smartphone
Description
Signia Hearing Aids miniPocket Remote Control
The Signia miniPocket Hearing Aid Remote Control is the ideal solution for anyone who wants discreet, convenient control of their Signia hearing aids without the need for a large remote control or smartphone. Reliable and easy to use, the miniPocket remote is small enough to carry on a key ring yet powerful enough to control all essential hearing aid features.
This accessory is perfect for those who wish to have the convenience of a hearing aid remote control at their fingertips without the big bulky size.
The package includes the miniPocket remote, disc-type battery and users manual.
The Signia miniPocket hearing aid remote control is covered by a one-year manufacturer warranty.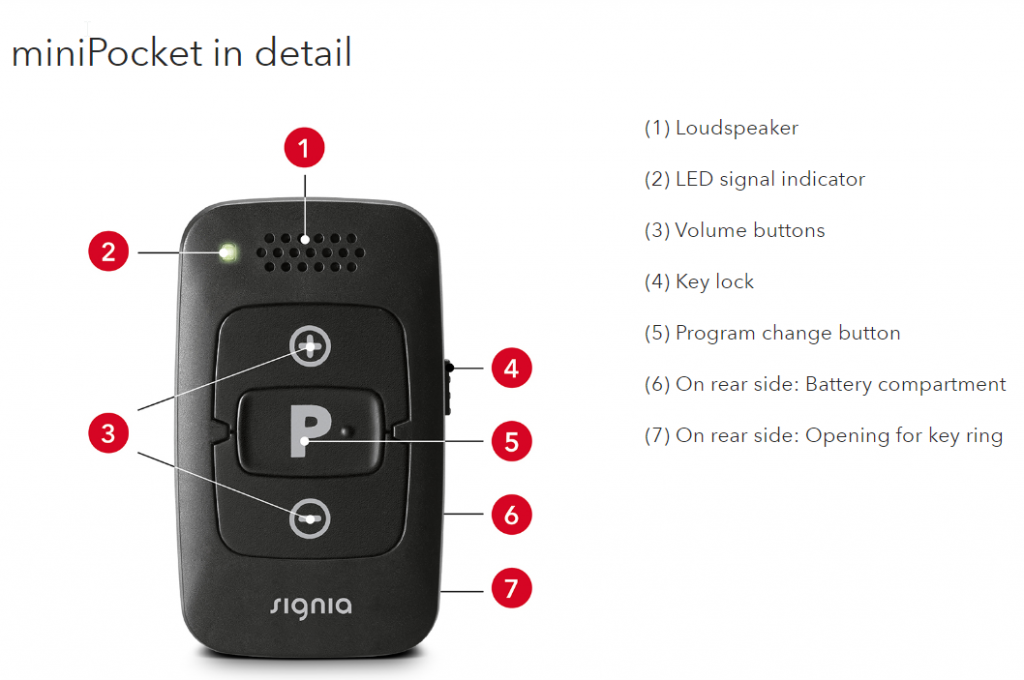 How to Handle The Signia miniPocket
https://youtu.be/j58N2WFVqAAhttps://youtu.be/ukdiRbvorYk
Compatible with all Signia X, Nx, Primax, Binax, Micon, Orion2, Sirion2 and Pure hearing aids
miniPocket Features:
Loudspeaker
LED signal indicator
Volume up and down buttons
Key lock
Program change button
On rear side: Battery compartment
On rear side: Opening for key ring
Pairing Signia Hearing Aids With miniPocket
Your Signia hearing aids need to be paired with your miniPocket remote control.
After that, the pairing is saved in the hearing instruments and remembered each time they are turned on.
1. Lock the remote control (red color visible).
2.  First turn the hearing instruments off: Open the battery compartments. If your hearing aids do not have a battery compartment, turn them off as described in the hearing aids' user guide.
3. Then turn the hearing instruments on: Close the battery compartments. If your hearing instruments do not have a battery compartment, turn them on as described in the hearing instruments' user guide.
The hearing instruments are now in pairing mode. You have 3 minutes to complete the pairing. Follow the steps below.
4.  Insert the hearing instruments into your ears.
5. Hold down the "P" button on the remote control while switching the key lock to the unlock position (green color visible).
6. Release the "P" button.
The remote control is now in setup mode, the LED will be on.
While the remote control is in setup mode, do not press "+" or "-" button. This will change other settings.
7. Hold down the "P" button until the pairing confirmation sound is played in the hearing instruments. It takes approximately 2 seconds for the sound to start playing.
8. Ensure that the confirmation sound is heard in both hearing instruments. When heard, the pairing will be complete.
The remote control will remain in setup mode for an additional 30 seconds. The confirmation sound can be played again by
pressing "P" during these 30 seconds.
9. To exit the setup mode of the remote control, wait 30 seconds or move the key lock switch to the lock position
(red color visible).
When pairing is finished, the remote control is ready for use.
Ensure that it is unlocked (green color visible).
For more information on the Signia miniPocket hearing aid remote control, please call 1-800-416-2434, Monday thru Friday, 9:00 a.m. to 9:00 p.m. Eastern Time (6:00 a.m. to 6:00 p.m. Pacific Time) USA.
Additional information
| | |
| --- | --- |
| Brand | Signia |
| Warranty | One-Year |
Terms and Conditions of Purchase, Warranty, 45-Day Return/Refund Policy on all Products Sold By HearSource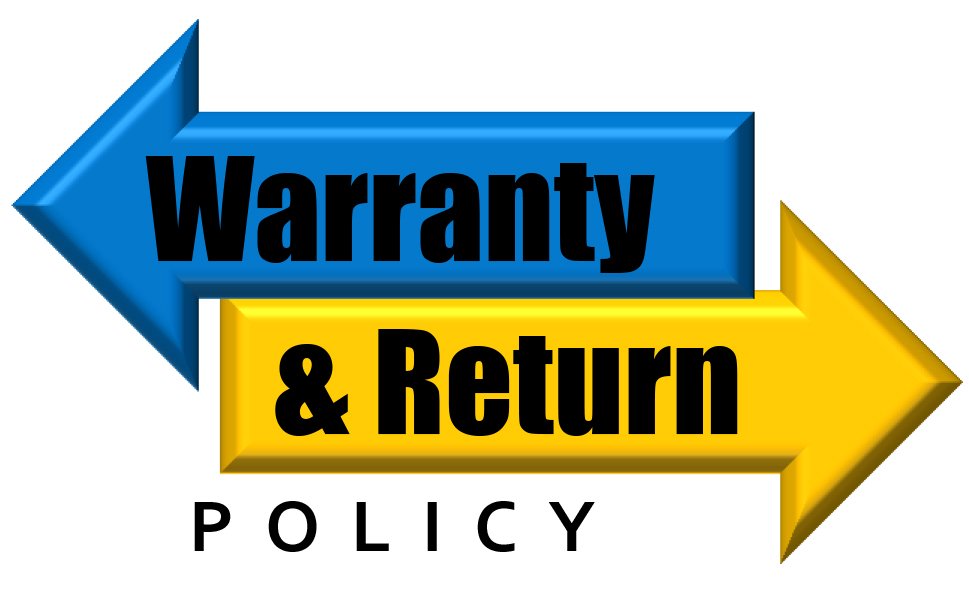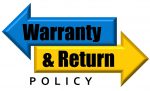 By purchasing products or services from HearSource, you do hereby agree to the following new product warranty, hearing aid repair warranty, return policy, and all other terms and conditions. 
All new merchandise or products purchased from HearSource are warranted against material or manufacturing defect by the original manufacturer for a minimum period of one year (certain hearing aid models may have warranties from the manufacturer for two or three years) from the date of shipping from our facility to your address. At our sole discretion we may repair, exchange, replace or upgrade any defective product that you have purchased from us. Additional/extended warranties are available for purchase at additional cost. Please contact HearSource for additional information concerning extended warranties. This warranty is non-transferable and applies only to the original purchaser. To obtain warranty service on any HearSource product, please include a check for processing, shipping & handling of $19.95.
Hearing Aid Repair Warranty
All hearing aids repaired by HearSource are warranted for six months from the date of shipment to you unless you have specifically requested and paid the additional $50 fee for a one year warranty. To obtain warranty service on any HearSource repair, please enclose a check for processing, shipping & handling for $19.95
Return Policy, 45-Day Money Back Policy
HearSource offers only the best brand names and the highest quality goods. We provide a 45-day return for refund policy.  If for any reason, you are not satisfied with your purchase, simply contact HearSource at 1-800-416-2434 and request a RMA authorization (Return Merchandise Authorization) number.
Return the item(s) in the original, undamaged condition (including all original materials, packaging and accessories) within 45-days of our shipping date to you of any product for refund. Returned merchandise must be received by us at our HearSource location within 45-days of our shipping date to you. If you have any questions or concerns regarding your order or our return policy, please contact us directly at 1-800-416-2434.
Call 1-800-416-2434, Monday through Friday, 9:00 a.m. to 4:30 p.m., Eastern Time Zone, USA, to obtain your required RMA authorization number. Your shipping and handling charges for products you ship or return to us are non-refundable. You may want to insure your return; as we cannot be held responsible for products damaged, lost or misdirected via shipping.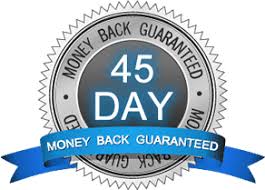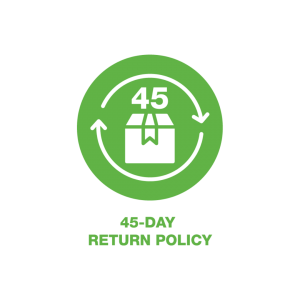 After we receive the product for return, your refund will be made to you in the manor in which you paid. For example; if you paid using a credit card, your refund will be applied to that specific credit card. If you paid by cash or check, your refund will be in the form of a check.
With your RMA clearly identified in the shipping address back to us, please ship return merchandise to:
HearSource
RMA #XXXXXX
108 E. Pat Rady Way, P.O. Box 364
Bainbridge, IN  46105
You may also return any item for exchange or replacement within 45-days of the shipment date due to material defect or damage during shipment. After 45-days, defective or damaged products will be repaired or replaced under the specific manufacturer's warranty policy.