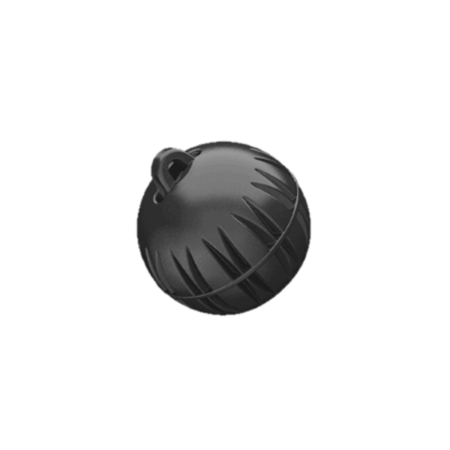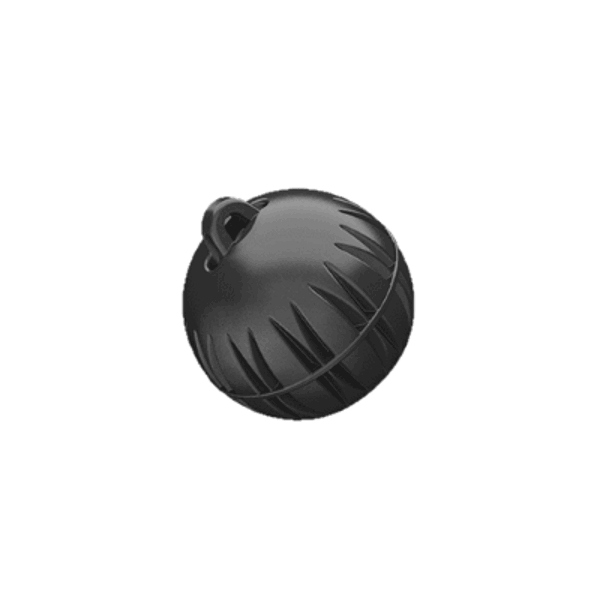 Widex Easywear Instant Round Ear-Tip 10-Pack
$18.00
Authorized Seller
Authentic OEM product
Description
Widex EasyWear Instant Round Ear-Tips
Widex EasyWear Instant Round Ear-Tips are used with Receiver-in-Canal style hearing aids. $18.00 = Pack of 10.
Available in three sizes; Small (8mm), Medium (10mm), and Large (12mm).
Benefits of Widex EasyWear Instant Round Ear-Tips
Integrated wax protection for less clogging, improved sound, and greater reliability
Outstanding quality and design
Dark grey transparent color ensures less discoloring
A wide range of sizes provides great fitting flexibility
Compatible with EASYWEAR Wired RIC and EASYWEAR Thin Tubes
Smaller and more discreet – better to wear, invisible
Cosmetically appealing – more satisfied users
Ergonomic and comfortable – better to wear, can't be felt
Safe – doesn't fall out, stays in the ear
Compatible Hearing Aid styles:
Receiver-in-the-Canal (RIC) devices with receivers that do not have custom earpieces attached
Behind-the-Ear (BTE) devices with thin tubes that do not have custom earpieces attached.
Available sizes include S, M, L
About EasyWear Instant Fit Ear-Tips
EasyWear Instant Ear-Tips are designed to be able to be used for most hearing losses. The different styles accommodate different hearing losses.
EasyWear Instant Round domes fit over Widex hearing aids receiver tips
Fits the S, M & P (standard, medium, and power) receiver links used on Widex RIC models
Available in small, medium, and large sizes
Pack of 10
All EasyWear Instant Ear-Tip Designs and Sizes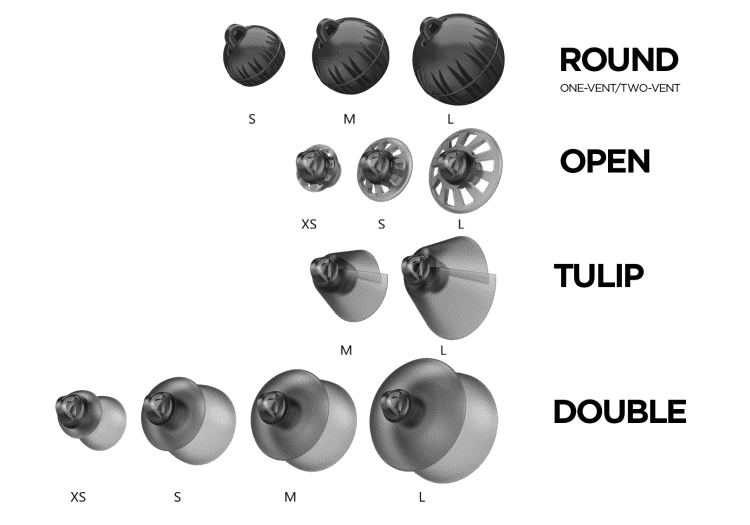 EasyWear solutions for two common issues plaguing the hearing aid industry:
Lateral migration – Older hearing aid models may feel like they are going to fall out of your ears when you move around a lot – a problem that is technically called "lateral migration". EASYWEAR helps your hearing aids to better stay in your ears.
Itching – Lateral migration can also cause a feeling of itching in your ears due to the friction caused by moving ear molds. EASYWEAR can also help this by minimizing friction and keeping hearing aids firmly in place.
The patented design of EASYWEAR allows for a better physical fit, more stability in the ear canal, and a more discreet look.
For more information on Widex EasyWear Instant Round Ear-Tips, please call 1-800-416-2434, Monday thru Friday, 9:00 a.m. to 9:00 p.m. Eastern Time (6:00 a.m. to 6:00 p.m. Pacific Time) USA.
The use of the Widex logo or name and other relevant educational materials on this website is purely for informational purposes about the products we offer for sale.
Additional information
| | |
| --- | --- |
| Weight | 0.01875 lbs |
| Dimensions | 5.6 × 2 × 0.625 in |
| Brand | Widex |
Terms and Conditions of Purchase, Warranty, 45-Day Return/Refund Policy on all Products Sold By HearSource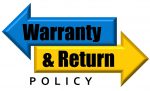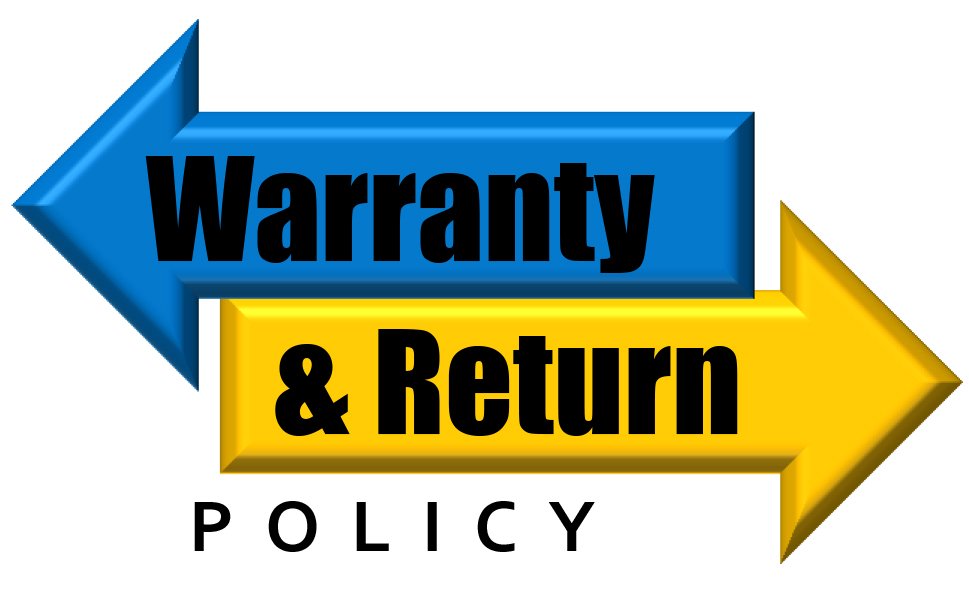 By purchasing products or services from HearSource, you do hereby agree to the following new product warranty, hearing aid repair warranty, return policy, and all other terms and conditions. 
All new merchandise or products purchased from HearSource are warranted against material or manufacturing defect by the original manufacturer for a minimum period of one year (certain hearing aid models may have warranties from the manufacturer for two or three years) from the date of shipping from our facility to your address. At our sole discretion we may repair, exchange, replace or upgrade any defective product that you have purchased from us. Additional/extended warranties are available for purchase at additional cost. Please contact HearSource for additional information concerning extended warranties. This warranty is non-transferable and applies only to the original purchaser. To obtain warranty service on any HearSource product, please include a check for processing, shipping & handling of $19.95.
Hearing Aid Repair Warranty
All hearing aids repaired by HearSource are warranted for six months from the date of shipment to you unless you have specifically requested and paid the additional $50 fee for a one year warranty. To obtain warranty service on any HearSource repair, please enclose a check for processing, shipping & handling for $19.95
Return Policy, 45-Day Money Back Policy
HearSource offers only the best brand names and the highest quality goods. We provide a 45-day return for refund policy.  If for any reason, you are not satisfied with your purchase, simply contact HearSource at 1-800-416-2434 and request a RMA authorization (Return Merchandise Authorization) number.
Return the item(s) in the original, undamaged condition (including all original materials, packaging and accessories) within 45-days of our shipping date to you of any product for refund. Returned merchandise must be received by us at our HearSource location within 45-days of our shipping date to you. If you have any questions or concerns regarding your order or our return policy, please contact us directly at 1-800-416-2434.
Call 1-800-416-2434, Monday through Friday, 9:00 a.m. to 4:30 p.m., Eastern Time Zone, USA, to obtain your required RMA authorization number. Your shipping and handling charges for products you ship or return to us are non-refundable. You may want to insure your return; as we cannot be held responsible for products damaged, lost or misdirected via shipping.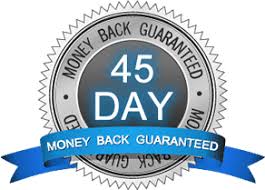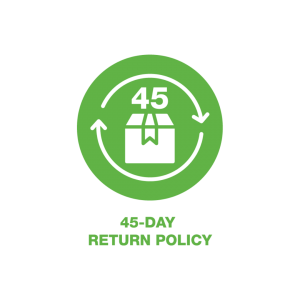 After we receive the product for return, your refund will be made to you in the manor in which you paid. For example; if you paid using a credit card, your refund will be applied to that specific credit card. If you paid by cash or check, your refund will be in the form of a check.
With your RMA clearly identified in the shipping address back to us, please ship return merchandise to:
HearSource
RMA #XXXXXX
108 E. Pat Rady Way, P.O. Box 364
Bainbridge, IN  46105
You may also return any item for exchange or replacement within 45-days of the shipment date due to material defect or damage during shipment. After 45-days, defective or damaged products will be repaired or replaced under the specific manufacturer's warranty policy.