Hearing Aid Parts and Accessories
HearSource has carefully curated a list of the best quality accessories and hearing aid replacement parts, as well as finding some of the top brands available for brand-neutral use, such as cleaning equipment and for ear care.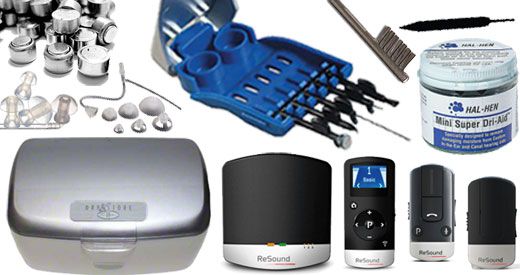 Widex Hearing Aid Parts & Accessories
Widex EasyWear Instant Ear-Tips
Widex Hearing Aid Accessories
ReSound Hearing Aids Parts & Accessories
ReSound SureFit 2 Receiver Links
ReSound Hearing Aid Accessories
Signia Hearing Aids Parts & Accessories
Signia Receiver Click Domes
Phonak Hearing Aids Parts & Accessories
You cannot add "ZPower Hearing Aid Battery - Rechargeable Size 312" to the cart because the product is out of stock.
HearSource Hearing Aids Parts & Accessories
HearSource Hearing Aid Thin Tubes
HearSource Personal Programmable Hearing Aid Accessories
Hearing Aid Cleaning & Maintenance Supplies
Hearing Aid Cleaning and Maintenance Supplies
Assistive Hearing Devices
For more information on any hearing aid accessories, please call 1-800-416-2434, Monday thru Friday, 9:00 a.m. to 9:00 p.m. Eastern Time (6:00 a.m. to 6:00 p.m. Pacific Time) USA.